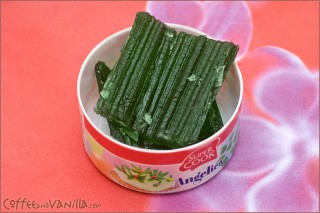 Garden Angelica (Angelica archangelica) also called Holy Ghost, Wild Celery, and Norwegian Angelica is a plant related to fennel, anise, caraway, parsley and chervil.
Angelica is native to Finland, Sweden, Norway, Denmark, Greenland, the Faroe Islands and Iceland, mostly in the northern parts of the countries. It is cultivated in France.
Angelica is used mostly as vegetable or for its medical properties (anti bacterial, anti fungal, it is also good for digestive system), but bright green stems of angelica plant can be also candied and used for cake decoration (very popular in Poland). Angelica seeds and angelica roots are sometimes used in making absinthe, gin or other liquors.
Candied angelica should have sweet aromatic, spicy flavour… unfortunately the one presented above is just sweet, with no flavour at all.
On the picture candied angelica for cake decoration.
Most information source: Wikipedia.