This is very simple but delicious coffee (tea) cake.
My husband told me that finally my cake came out fluffy as he always wanted and believe me, this is a big complement because he is hardly ever happy enough with my bakes. They are usually not soft and light like he remembers from his childhood (!)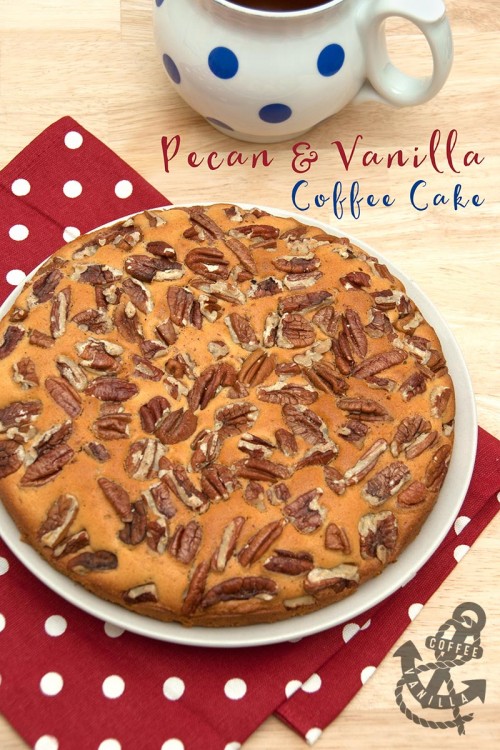 INGREDIENTS
2½ cups plain flour
125 g / half a bar of melted butter
1½ cups golden caster sugar
3 large – 4 small eggs
1 cup of milk
1 tbs baking powder
200 – 250 g of pecan nuts / about 1½ – 2 cups
seeds from 1 vanilla pod (do not discard the pod, use it to make home-made vanilla sugar)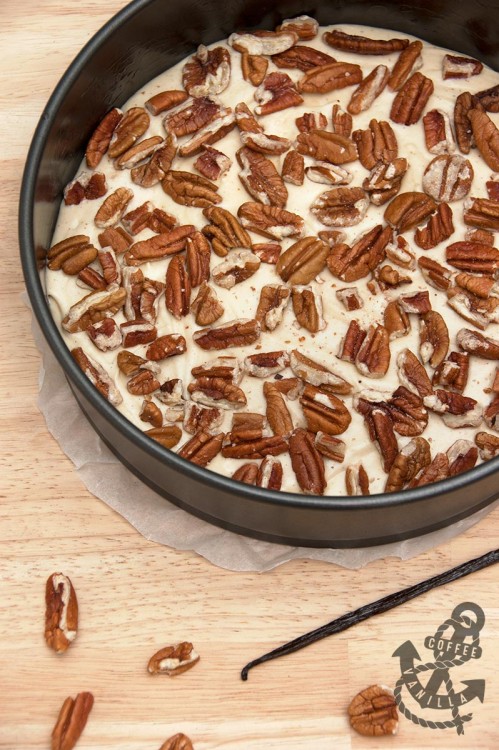 EQUIPMENT
mixer
silicone pastry brush
1 or 2 baking dishes (we have used two round cake tins lined with baking paper but one would be also good, cake would be just taller)
wooden skewer
microwavable jug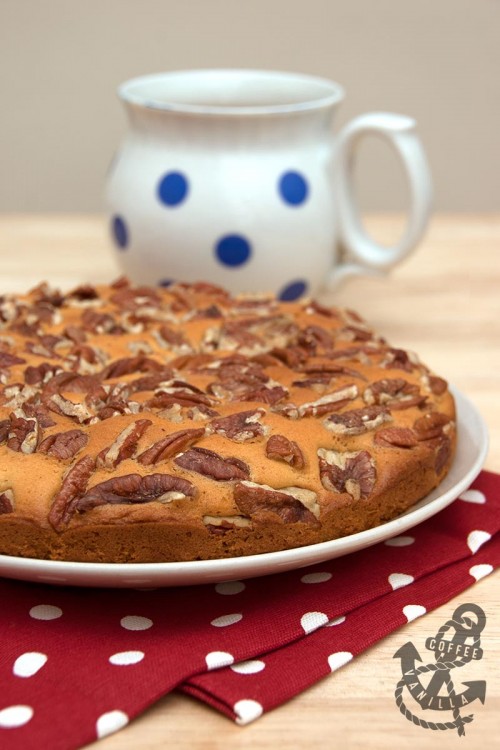 METHOD
Place butter bar in a jug and microwave for about 50 seconds, until completely melted.
With a pastry brush grease baking trays, using a bit of melted butter, leave aside.
In a mixer bowl combine all dry ingredients: flour, vanilla seeds, sugar an baking powder.
Add also milk and eggs and turn the mixer on.
Gradually pour in melted butter and mix a while longer.
Share dough to the baking tins.
Top with pecans.
Bake in the the oven preheated to 180°C  (356°F) for about 50 – 60 minutes.
Let the cakes to cool down before sharing.
Makes about 12 – 16 servings.
NOTES
This cake taste great with some unsweetened coffee (or tea).
If you are looking for more pecan recipes try: Halloumi, Roasted Grape & Pecan Salad by Jeanne, Kale & Watermelon Salad (with pecans) by Dannii, Cranberry, Maple and Pecan Cake by Jen, Homemade Maple Syrup Granola with Pecans, Cashews and Brazils or Pear, Pecan and Dark Chocolate Muffins I made while ago.
Pecan nuts can be replaced with other nuts such as walnuts, hazelnuts or almonds.
I  used here pecans that I got in our local health food store for bargain price of £0.25 per pack 125 g as they were all broken, therefore I'm submitting this recipe to Camilla's & Helen's Credit Crunch Munch hosted this month by Michelle of Utterly Scrummy Food For Families.