There is no doubt that tiramisu soaked with liqueur and strong coffee is decadent, delicious and would make perfect dessert for any occasion, including festive season, especially that it is easy to make and no baking is involved (!)
But have you ever wondered where exactly tiramisu come from? I've done a bit of investigating and I found out that it originates in Tuscany and for this reason is also called Tuscan trifle so when I was asked by Expedia to prepare classic dish from one of the countries they organize holidays to as a part of their #expediaworldonaplate challenge – Italy was one of the first places on my mind… luckily for me  they have Tuscany holidays in their package as well.
If you haven't heard of Expedia before, they are online travel company organizing stays in the hotels, flights, transfers from the airport and more as a package at discounted rates. My husband and I, we went for our honeymoon in Jamaica with them years ago and we had a very good experience.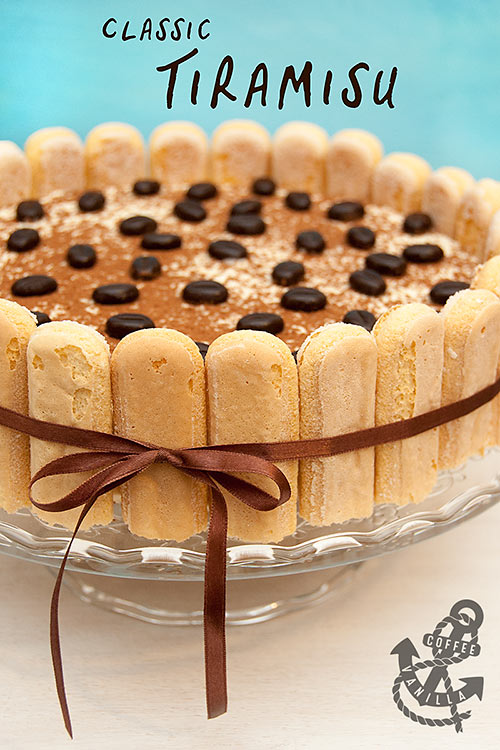 But coming back to tiramisu…
Tiramisu is semifreddo, dessert to be served cold but not frozen, therefore you need to remove it from the freezer  and transfer to the fridge some time before serving.
Tuscany is also home to another popular dessert, zuppa Inglese (English soup) that probably originates from English trifle and is made from sponge cake, custard and Alchermes (bright red Italian liqueur).
Tiramisu can be made with or without alcohol. Traditionally Marsala (sweet and strong Italian dessert wine similar to Port) is used in this recipe. Many less traditional recipes call also for brandy, dark rum, Madeira wine, coffee liqueur, Port wine, Irish cram or almond flavoured liqueur. We decided to go for the most traditional of them all… Marsala wine.
Originally raw egg yolks and egg whites used to be added in tiramisu recipes. I don't really like idea of raw eggs so I whisked the yolks over double boiler and replaced egg whites with whipping cream.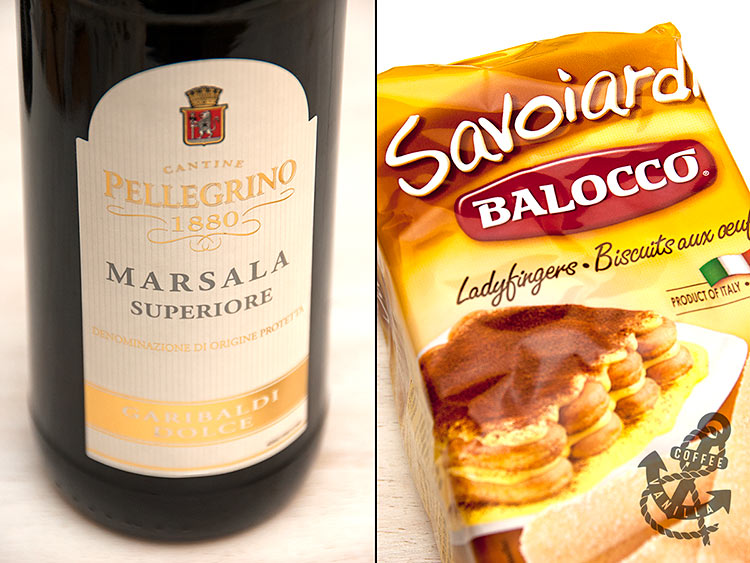 INGREDIENTS
for the zabaglione filling (Italian custard)
4 (5 if small) egg yolks
¾ cup / about 190 ml golden caster sugar
500 g marscarpone cheese
1½ cup / 375 ml whipping cream
for the dip
less than a cup / about 200 ml very strong espresso coffee (cooled down)
less than a cup / about 200 ml sweet (dolce) Marsala wine
for the base
 400 g packet /about 48 Italian savoiardi (lady fingers biscuits)
extras
about 2 tbs bitter cocoa powder – for sprinkling
chocolate shavings or other chocolate decorations (we used mocha chocolate beans)
more  lady fingers / savoiardi biscuits to wrap around the cake
ribbon
EQUIPMENT
round spring cake base lined with parchment paper
double boiler (metal bowl and pot to rest it on)
electric hand whisk
mixer
mixing bowl
METHOD
Place egg yolks in a double boiler and whisk until fluffy, add also sugar and whisk some more until the mixture thickens and is bubbling.
In a mixing bowl whip the cream until soft peaks are creating.
Fold in egg yolk mixture and mascarpone cheese, mix until thick.
Dip biscuits in coffee combined with wine and line baking tin with them.
Top with half of the zabaglione mixture, sprinkle with half of the cocoa powder.
Make another layer of lady fingers dipped in coffee and wine.
Top with the rest of zabaglione and sprinkle with the rest of cocoa powder.
Place in the freezer for couple of hours or even better overnight.
A while before serving remove tiramisu from the freezer, place on cake stand, wrap in remaining ladyfinger biscuits and store in the fridge until ready to serve.
Makes 10 – 15 portions.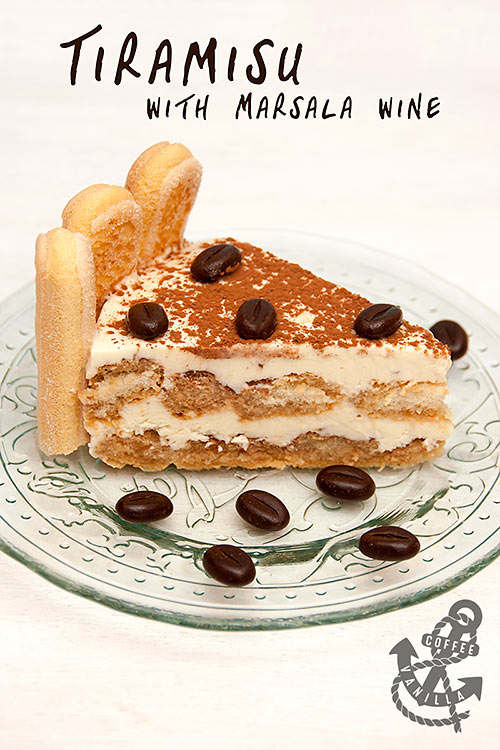 TIPS
Kids' version: if you have tin of sliced peaches in syrup you can make similar dessert for children,  but instead of dipping biscuits in coffee and wine, dip them in the syrup, top with some peaches and zabaglione mixture.
If you have any leftover tiramisu, best store it in the freezer.
NOTES
If you are looking for more coffee desserts, take a look at this Walnut Coffee Cake, Condensed Milk & Coffee Tarts with Almonds, Ch'tiramisu, Mocha Éclairs or Coffee Icing Glazed Cookies.
For more World on a Plate recipes, check out Bintu's Cream Cheese and Black Pepper Pasta, Camilla's Simple Fig Jam, Baked Pulpetti – A Maltese Recipe by Munchies and Munchkins, Plum, Apple & Almond Tarte Tatin by Claire, Choclette's Olive Garlic Halloumi Spelt Bread – Eliopsomi or Elizabeth's Banista – Bulgarian Cheese Pie.
DISCLOSURE: This is commissioned post for Expedia and we were reimbursed for our time. All opinions expressed here are our own and we retained full editorial control.
Please consume spirits responsibly and don't exceed recommended safe alcohol unit limits.