Do you remember little egg basket tartelettes we made for Easter holidays? Those coffee tartlets are very similar but more classic in shape and filled with coffee flavoured filling instead of chocolate.
INGREDIENTS
for the shortcrust
3 cups / 500 g plain flour
bar / 250 g unsalted butter (softened)
¾ cup golden caster sugar
2 egg yolks
1 whole egg
2 tbs natural yoghurt or soured cream
for the condensed milk & coffee filling
2 x 397 g tins of sweetened condensed milk
1 tbs instant coffee dissolved in as little boiling water as possible
for the topping
150 – 200 g pack of blanched almonds (almond flakes would work here as well)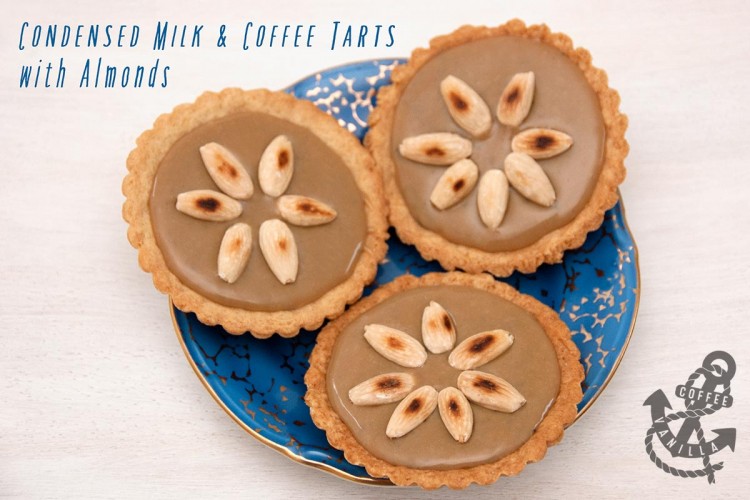 EQUIPMENT
16 – 18 mini fluted quiche or tartlet tins (we have used 8 cm and 10 cm tins)
mixing bowl
double boiler to make the filling
frying pan to toast the almonds
METHOD
In a mixing bowl combine all ingredients for the shortcrust base and knead until well combined.
Fill each tart tin with some dough, make sure to cover the edges properly.
Pierce couple of times, with wooden skewer, bottom of each pastry  to prevent from bulging during baking.
Bake in the oven preheated to 200°C (392°F) for about 15 – 20 minutes or until the dough is golden brown.
In meantime toast almonds on frying pan, leave aside to cool down.
When tart bases are ready pour condensed milk into double boiler, add also coffee and heat over low fire constantly stirring until it will start bubbling and getting thicker.
Pour filling into the bases.
While still soft and sticky decorate with almonds.
Leave aside to set.
Once completely cooled down store in airtight container for a day or two.
Makes about 16 – 18  tarts.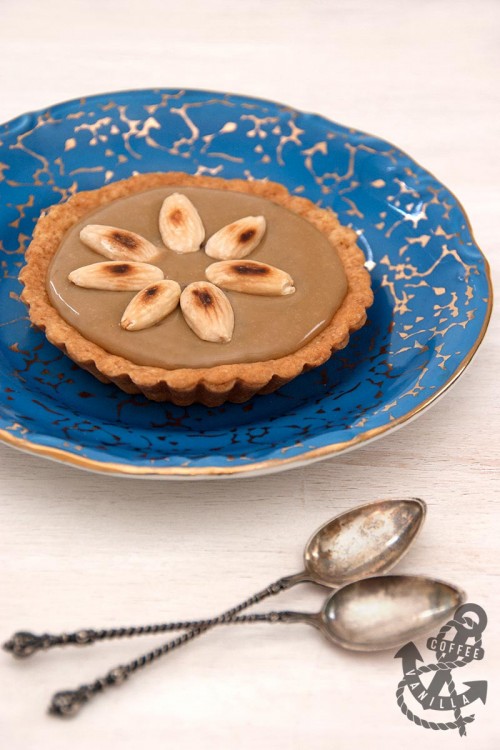 NOTES
For children you can make couple of plain tarts with the same milky filling minus the coffee or make chocolate tarts, like the ones we made for Easter.
If you are looking for more coffee desserts try Coffee & Amaretto Soufflés from Jen's Kitchen, Pischinger, Mocha Éclairs, Coffee Icing Glazed Cookies, Chocolate and Coffee Triple Layer Cake or Ch'tiramisu – Tiramisu from North of France I made while ago.
DISCLOSURE: This post contains some affiliated links.