INGREDIENTS
for the chocolate layers
2 cups plain flour
2½ cups golden caster sugar
¾ cup unsweetened cocoa powder
2 tsp baking soda
1 tsp salt
¾ cup vegetable oil, neutral one that does not have strong taste or smell, like canola or Carotino oil, or even
yellow olive oil not the extra virgin one
1 cup soured cream
1½ cups water
2 tbs white vinegar, I used rice vinegar or white wine vinegar
½ tbs vanilla extract
2 eggs
2 – 3 tbs unsalted butter to butter the tins
1½ tbs instant coffee (dissolved in 2 – 3 tbs hot water) or

Kahlúa (

coffee flavored liqueur)
for the cream layers

900 ml whipping cream
1½ cups fine white sugar or golden caster sugar
for decoration
200 g almond flakes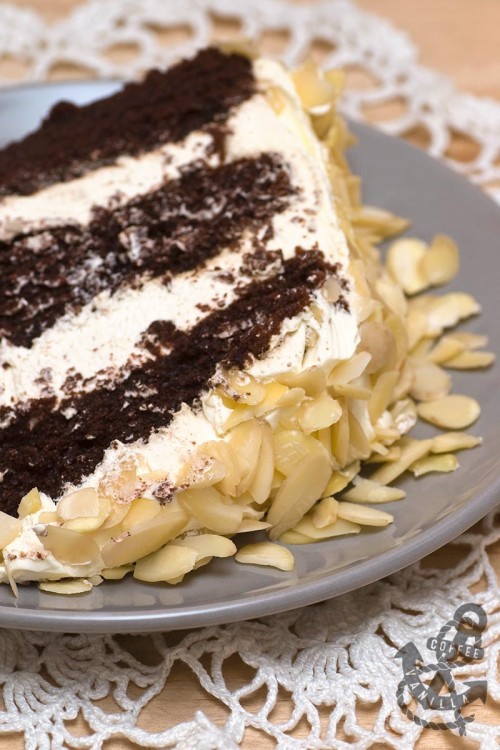 EQUIPMENT
3 round 9" (22,8 cm) non stick cake tins
spatula
food processor or hand mixer to make whipping cream
cake stand or disposable cake base
3 circles (9" – 22,8 cm) from baking paper
whisk
more baking paper
cling film
silicone brush
spatula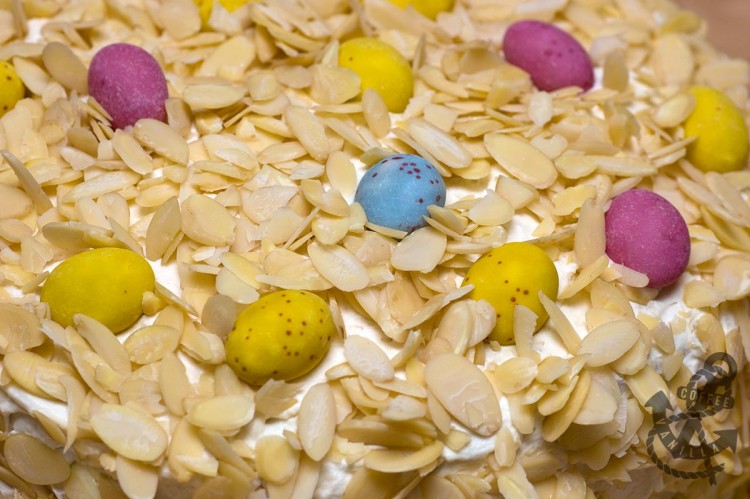 METHOD
For the chocolate layers butter all 3 tins with unsalted butter, place on the bottom of the tins baking paper circles and also butter them. Preheat oven to 170°C (338°F).
In meantime combine together flour, sugar, cocoa, baking soda, salt and mix together with the whisk. Add also oil, eggs, water and soured cream, whisk until well blended. Add vanilla extract and vinegar. Pour batter into 3 baking tins, about 2 cups to each. If you don't have 3 baking tins you can divide mixture and bake one at the time. Layers should bake for about 30 minutes. Let them cool down a little bit before removing from the tins and peeling of the paper circles.
When chocolate layers are completely cooled down, place them for at least 1 hour in the fridge or even better overnight. Separate them with baking paper so they won't stick together, cover with cling film so they won't dry out.
To assemble the cake prepare whipped cream by whipping in food processor cream and sugar until thick, you may need to do it twice if your food processor bowl is not too big. Divide cream into 4 even portions. Place first chocolate layer on the cake stand or base, brush it with coffee or

Kahlúa, then

spread on the top of it with spatula 1 portion of the whipped cream, repeat the same with the next 2 chocolate layers. The last portion of cream use to cover sides of the cake.
Sprinkle with almond flakes, place in the fridge for at least 2 hours.
Makes about 16 portions.
NOTES
Special thanks to my sister Jola and my sister in law Mavia for helping to prepare this cake.
You may also top cake with additional decorations, such as sugar coated chocolate eggs and make it for instance Easter cake.
I'm re-posting this recipe, that was originally posted some time in January, to show you the Easter version :)