INGREDIENTS
for the buns
for decoration
seaweed, poppy seeds or toasted sesame seeds
3 tbs icing sugar
1 tbs hot water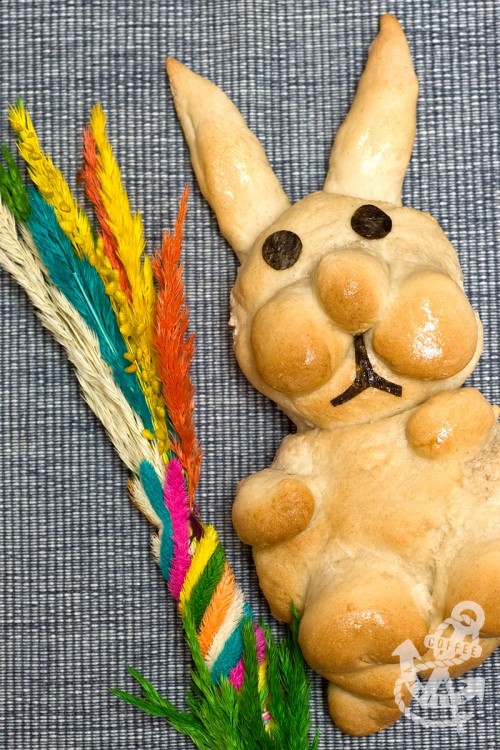 EQUIPMENT
kitchen towel
baking tray lined with non stick Telfon sheet or baking paper
silicone brush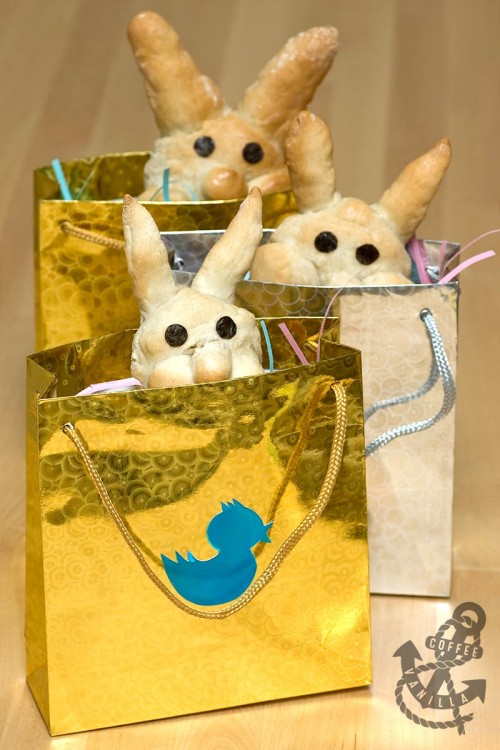 METHOD
Combine flour, salt and whisk until well mixed.
In a cup of warm water dissolve 2 tbs of sugar, sprinkle with yeast and whisk, leave for about 10 minutes in a warm place until froth is created.
Add now yeast mixture to flour and knead until well combined.
Cover with kitchen towel and let it grow for 1 hour.
Now divide dough into 4 even pieces, each piece divide into 3 portions. From first create head, from second belly, from third legs, hands, nose, ears and bunny chicks. Repeat the same with the rest of the dough.
Bake in the oven preheated to 170°C (338°F) until golden brown.
In meantime cut out from seaweed shapes for bunny eyes and mouths.
When buns are already baked, in a small container combine icing sugar and hot water. Brush bunnies with this mixture, then stick eyes and mouths or simply sprinkle with seeds.
Leave to cool down and dry out completely.
Makes 4 bunny buns or 8 – 10 regular buns.
NOTES
You may replace sugar mixture with whisked egg, then place buns for couple of minutes more to the oven instead of leaving them to dry itself.