[adapted from recipe by chef Réginald Ioos from L'Atelier des Chefs that I visited during my trip to Lille, France]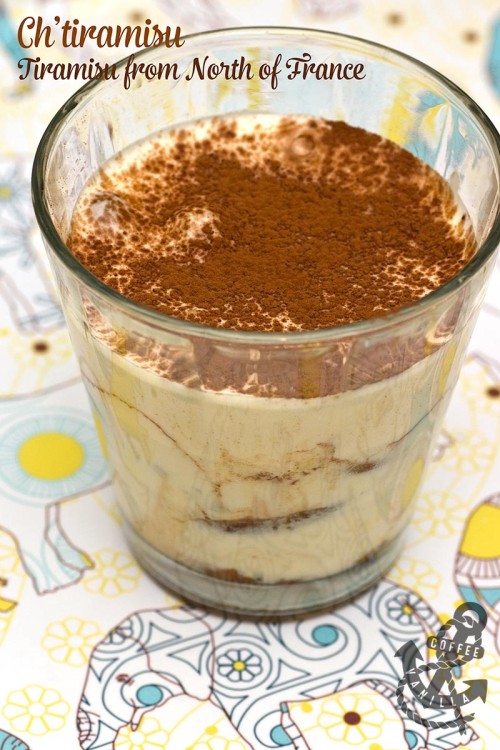 INGREDIENTS
250 g packet of "spéculoos" biscuits – about 30 (for instance Lotus brand)
250 g mascarpone cheese
4 large eggs (separated)
¾ cup golden caster sugar
½ cup strong coffee (I used 1 tbs of instant coffee for ½ cup of hot water)
about 2 tsp bitter cocoa powder (in shaker container)
EQUIPMENT
6 bodega glasses or any other glasses (short and wide glasses would be the best)
electric hand whisk
manual hand whisk
two quite big plastic bowls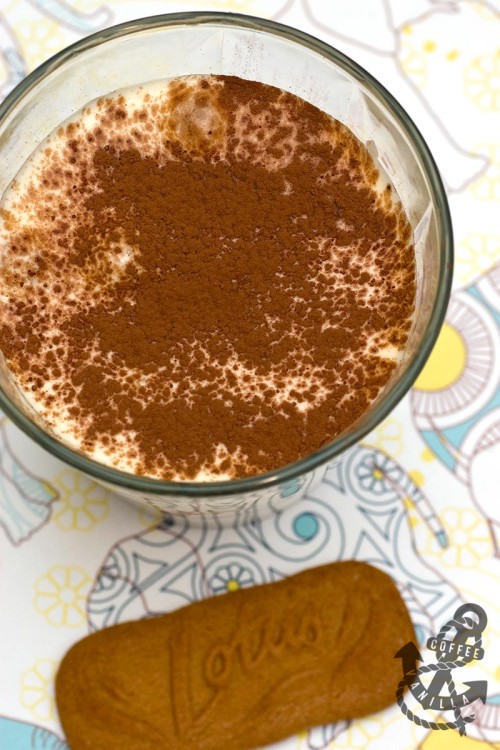 METHOD
With electric whisk beat egg whites and half of the sugar until stiff.
In separate bowl beat also egg yolks with the rest of the sugar until they double their size.
Using manual whisk combine egg yolks with mascarpone.
Once the mixture is smooth add it to the bowl with egg whites and mix well.
Share half of the biscuits to the glasses, pour with about 1 tbs of coffee to each glass.
Top with half of the egg-mascarpone mixture.
Sprinkle with cocoa powder.
Repeat again with the rest of ingredients: biscuits, coffee, egg-mascarpone and cocoa powder on the top.
Refrigerate until completely cooled down.
Serves 6 people.
TIPS
You can prepare this dessert day before and refrigerate overnight.
You can replace coffee with decaf coffee or coffee liquor.
If you don't have shaker container to dust with cocoa powder, just place some cocoa powder in the little strainer.
NOTES
Spéculoos are Belgian crunchy, spiced and malted cookies that contain cinnamon, cloves, nutmeg, ginger and lots of brown sugar. They are perfect to make Ch'tiramisu and itself with cup of coffee. Spéculoos resemble in taste Ikea's ginger thins but are bigger and sweeter.