Have you ever wondered what is this pumpkin spice everyone is talking about? Pumpkin spice latte, pumpkin spice pie, pumpkin spice bread or tea… just to mention few.  Pumpkin spice flavour is not yet extremely popular in UK but you can come across some products around Halloween time. Pumpkin pie spice is generally a mix of spices used for pumpkin pies. It is mostly combination of cinnamon with smaller quantities of other spices such as allspice, glove, nutmeg and ginger. It taste great in all kinds of sweet recipes.
Those pumpkin pie spice doughnuts are delicious, fragrant and the best part is the fact you can easily make them from scratch at home, any time of the year!!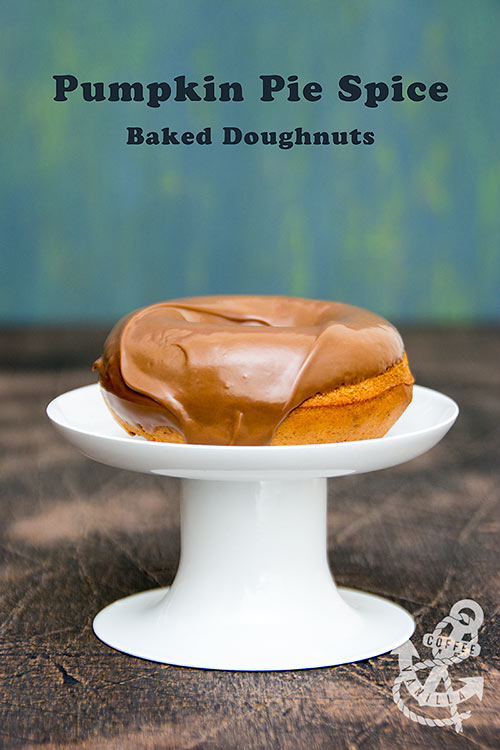 INGREDIENTS
for the doughnuts
2 cups plain flour (sifted)
¾ cup golden caster sugar
2 tsp baking powder
1 tsp fine salt
¾ cup full fat milk
2 eggs, 3 if small
3 ½ tbs of unsalted butter / about 50 g (melted) + some more (about 1 tbs for greasing the tins)
for the glaze
150 g bar of chocolate (either milk chocolate or white chocolate)
EQUIPMENT
doughnut pans (we used 2 large doughnut tins)
silicone pastry brush
large mixing bowl
small mixing bowl
piping bag or any plastic bag with pointy corner
cooling racks – optional
pot and metal bowl (or Pyrex) as double boiler – to melt the chocolate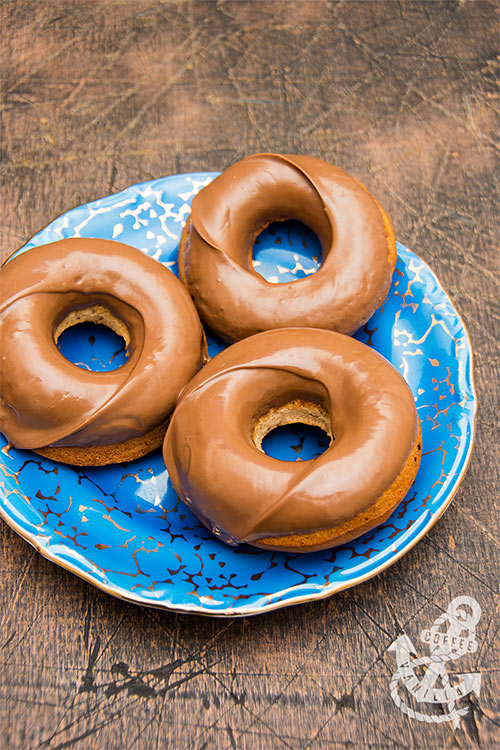 METHOD
Preheat oven to 220°C (425°F).
In a large mixing bowl combine all dry ingredients.
Melt the butter and use some of it to brush the tins.
In a small mixing bowl lightly beat the eggs, add milk and the rest of melted butter.
Add this to the bowl with dry ingredients and stir until batter is well combined.
Transfer the batter into piping bag – depending on the size of the bag you may need to refill the bag as you go.
Fill about 2/3 of each doughnut cavity (about 3 tbs batter for each doughnut).
Place trays in preheated oven and bake for about 10 minutes.
Remove from the oven and turn the trays over the cooling rack… doughnuts should easily come out from the tins.
Once the doughnuts have cooled down completely prepare the glaze by melting chocolate in double boiler.
Dip doughnuts in the chocolate, one by one, place back on the cooling rack until the chocolate is set.
Makes 16 regular / medium sized doughnuts.
TIPS
If you are using sprinkles or sugar decorations, top doughnuts with them quickly before the chocolate glaze will set.
NOTES
If you enjoyed this recipe you may want to take a look at our other baked doughnut recipes: cinnamon doughnuts, Halloween doughnuts, vanilla doughnuts, triple chocolate doughnuts or doughnut tower cake.
More recipes calling for pumpkin spice mix: Lucy's Pumpkin Spice Churros and Slow Cooker Pumpkin Spice Pudding Cake, Michelle's Pumpkin Cupcakes, Claire's Pumpkin Pasties, Sus' Cosy Pumpkin Spice Latte and Elizabeth's Mini Pumpkin Spice Muffins.
DISCLOSURE: This post contains some affiliated links.