Ever since we got donut trays my girls don't want to bake anything else on weekends, but doughnuts. This is our third version, first there were colourful vanilla doughnuts for the school bake sale and then cinnamon sugar doughnuts for the road trip.
Now we are already planning caramel doughnuts… stay tuned. In meantime enjoy our latest creation: chocolate donuts with chocolaty dough, topped with milk chocolate glaze and white chocolate chips for triple yumminess.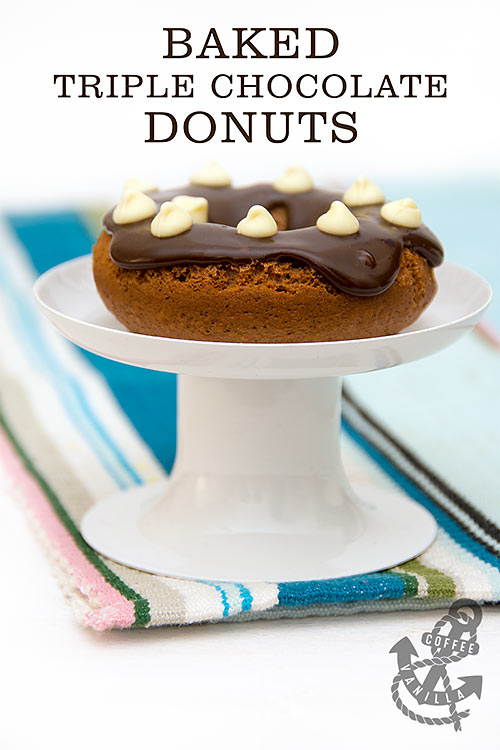 INGREDIENTS
for the chocolate doughnuts
2 cups plain flour (sifted)
¾ cup golden caster sugar
2 tsp baking powder
1 ½ tbs cocoa powder
1 tsp fine salt
¾ cup full fat milk
2 eggs, 3 if small
3 ½ tbs of unsalted butter / about 50 g (melted) + some more (about 1 tbs for greasing the tins)
for the chocolate topping
150 g milk chocolate (melted)
dash or two of milk
50 g white chocolate chips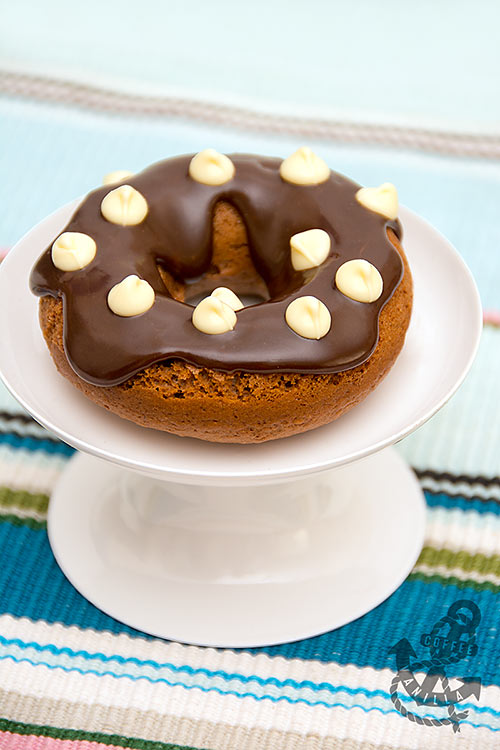 EQUIPMENT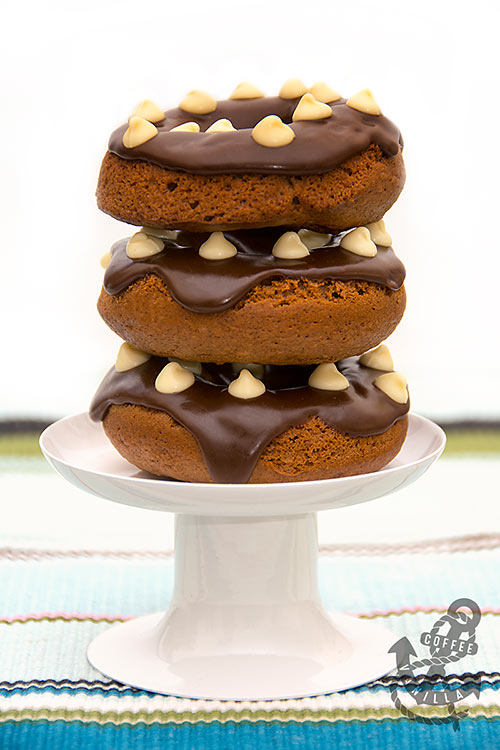 METHOD
Preheat oven to 220°C (425°F).
In a large mixing bowl combine all dry ingredients.
Melt the butter and use some of it to brush the tins.
In a small mixing bowl lightly beat the eggs, add milk and the rest of melted butter.
Add this to the bowl with dry ingredients and stir until batter is well combined.
Transfer the batter into pipping bag – depending on the size of the bag you may need to refill the bag as you go.
Fill about 2/3 of each donut cavity (1 tbs batter for small donuts and 3 tbs batter for bigger donuts).
Place trays in preheated oven and bake for about 10 minutes for bigger donuts and a bit shorter for smaller ones.
Remove from the oven and turn the trays over, tap for donuts to come out from the tins.
Using double boiler melt the chocolate, add dash or two of milk if necessary.
Using a tea spoon spread the chocolate on the top of the donuts.
Quickly, before the glaze will set, sprinkle them with chocolate chips.
Leave aside to cool down and dry before packing them away.
Makes 16 regular size donuts or 48 mini ones.
TIPS
Make sure  not to over bake them or they will become too dry and more like a cake than donuts. You won't be able to see if they are ready just from looking at the colour like with plain vanilla donuts so make sure to time the baking process carefully.
Baked donuts taste best the same day but can be easily prepared night before and then topped with chocolate and chocolate chips on the day.
If you have trouble getting the doughnuts out of the tray use wooden skewer around the edge to help them come out.
NOTES
For more baked donuts check out our: Doughnuts with Vanilla Glaze or Cinnamon Doughnuts.
I'm submitting this recipe to the Perfecting Patisserie challenge hosted by Lucy of Baking Queen 74.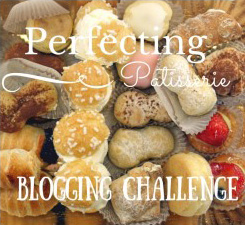 And to the #BakeoftheWeek hosted by Sarah of Maison Cupcake and Helen of Casa Costello.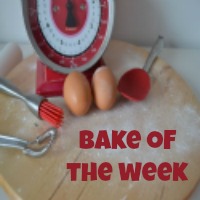 DISCLOSURE: This post contains some affiliated links.