Blood splatter doughnuts are not what we supposed to make this Halloween. We had planned orange doughnuts topped with black bats but everything went wrong this mornings…
Supermarket delivered two bottles of yellow food colouring instead of orange colour and orange extract. The made up orange glaze (from yellow and red) turned salmon in colour and tasted bitter. Black rolling icing somehow disappeared in the cupboard and as it was not enough, our bat cutter turned out way too big for the purpose.
So instead we made those extremely easy Dexter inspired blood splatter doughnuts.
Happy Halloween!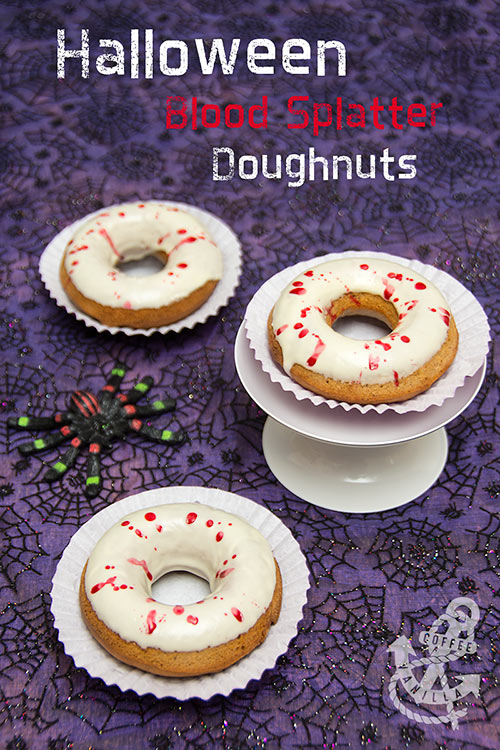 INGREDIENTS
EQUIPMENT
double boiler or metal bowl to be placed over pot of boiling water to melt the chocolate
skewer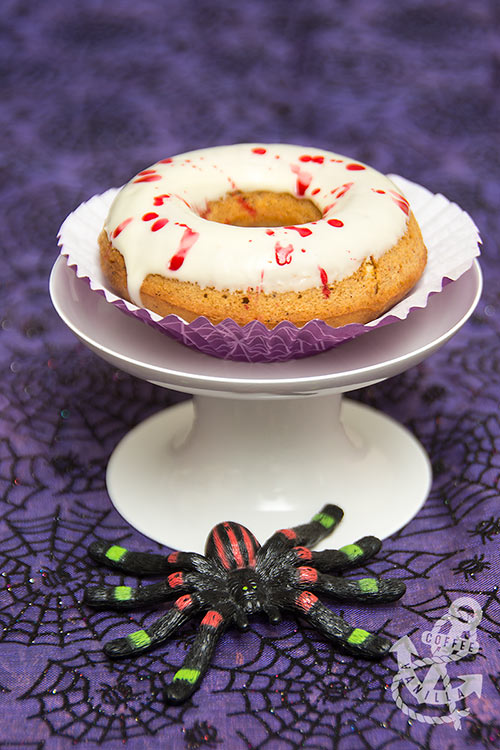 METHOD
Use double boiler to melt the chocolate.
One at the time, deep doughnuts in the chocolate glaze, leave aside until set.
Deep skewer in the food colouring and use it to create splatters over the doughnuts.
Leave aside again for a while to let the splatters to dry.
Makes about 14 – 16 medium doughnuts.
TIPS
In case you don't have time to bake doughnuts, get ready ones with white icing and splash them with red food colouring.
NOTES
If you are not fan of trick-or-treating you may like those Indoor Halloween Activities for Kids.
For more Halloween party ideas, take a look at Diana's Halloween Peanut Butter Cupcakes,  Kate's Naturally Green Peanut Butter Witch Finger Cookies, Camilla's Chocolate Pear Ghosts, Choclette's Chocolate Pecan Pumpkin Cake, Grace's Easy Mini Donut Spider Pops or Strawberry Ghost Pops.
More Halloween recipes and ideas from our blog.
More easy desserts.