Racuchy also called Placki z Jabłkami (pancakes with apples) are very popular Polish dish made from yeast batter with addition of apples and natural yogurt.
I've been very busy recently so my mother made them especially for the Inheritance Recipes challenge where we link-up to inherited recipes from all over the globe. If you are preparing anything traditional this month or even have some old suitable recipe to share, come and join us.
My mum's racuchy tasted great, exactly as I remember them from my childhood… True comfort food! Best served while still hot, straight from the frying pan.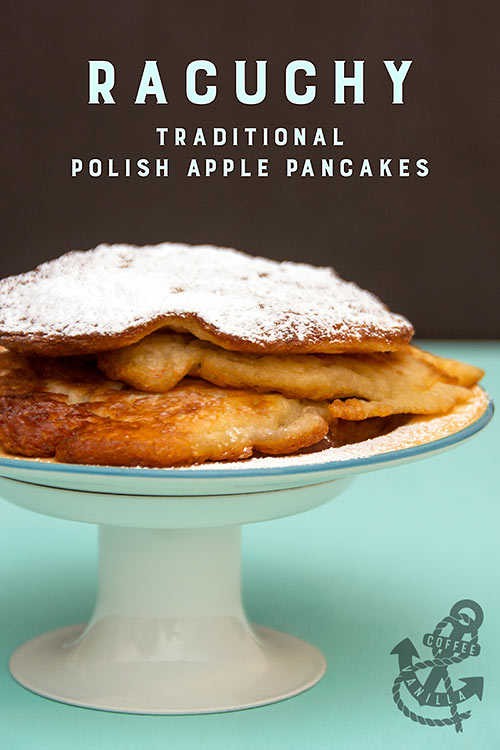 INGREDIENTS
1 heaped tbs of dry yeast
4 cups of plain flour
3 cups of lukewarm milk
1½ kg sour apples (peeled, sliced finely or grated into slices)
3 eggs (egg whites separated)
½ cup natural yogurt
pinch of salt
½ tsp sugar
vegetable oil – for frying
icing / confectioner's sugar – for sprinkling 

EQUIPMENT
frying pan
medium ladle
paper kitchen towels
large mixing bowl
small mixing bowl
egg whisk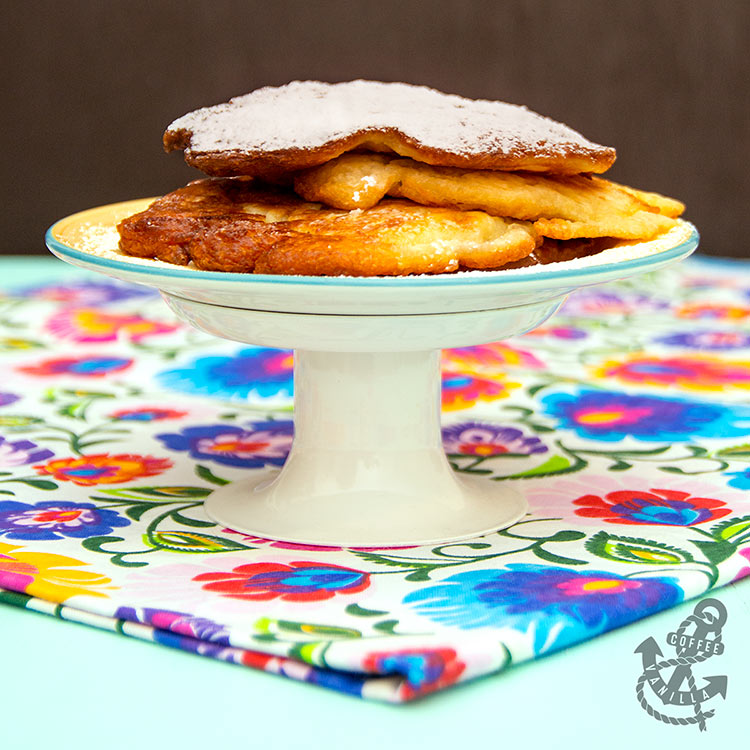 METHOD
First add the dry yeast and sugar to the lukewarm milk, stir lightly to dissolve the yeast. Cover with kitchen towel and leave aside until it will begin to froth (about 10 -15 minutes).
Peel and slice the apples.
In a small mixing bowl beat the egg whites.
In a large mixing bowl combine flour with salt. Add also the yeast mixture, rest of the milk, yogurt and egg whites. Mix well.
Stir in apples.
Use ladle to transfer portions of the batter mixture onto the frying pan filled with generous amount of oil, to cover at least half of the height of the pancakes.
Once the pancakes are browned on one side, turn them over and fry some more.
Place on the plate lined with paper towels to remove oil excess.
Serve while still hot sprinkled with icing sugar.
Makes a lot of apple pancakes and serves about 8 – 10 people.
TIPS
Racuchy taste best served fresh but they can be reheated on frying pan or even enjoyed cold.
They taste great with icing sugar, but also cinnamon sugar or homemade vanilla sugar.
NOTES
I'm adding this to the Inheritance Recipes link-up that we co-host together with Solange of Pebble Soup. November Inheritance Recipes is hosted by us.