Today autumn has started with its chilly mornings and nothing is more comforting and healthy at the same time like a bowl of delicious warm porridge for breakfast.  Hot chocolate would probably do the trick as well but I prefer to leave it for afternoons when kids return home after long bus journey home.
I've been eating porridge for ages but this year I decided to introduce it on daily basis to the rest of family as well and to my surprise it did go quite well, thanks to the toppings: tinned or fresh fruits, seeds, nuts and drizzles including honey, maple syrup or even chocolate spread.
And what is your favourite way to serve porridge? Leave a comment so we can try it out as well.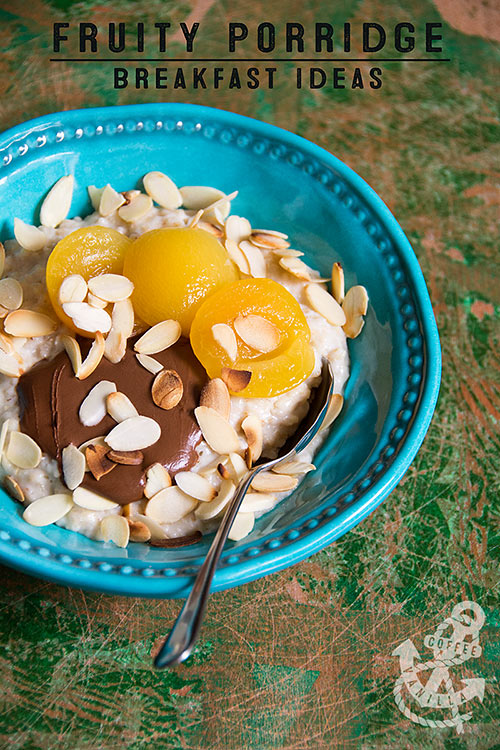 INGREDIENTS
2 cups of rolled oats
2 cups of  boiling water
2 cups of milk (regular, almond milk, coconut milk etc.)
pinch of salt
for the toppings
fresh, dried or tinned fruits – 400 g tin (drained), some dried fruits (cranberries, raisins) or two handfuls of freshly chopped fruits: apples, bananas, mango etc.
4 tbs seeds and nuts (toasted almond flakes, sunflower seeds, flax seeds etc.)
spices: cinnamon, nutmeg – optional
something for extra sweetness: sugar (our favourite is muscovado), honey, agave syrup, maple syrup or even spoonful of chocolate spread
METHOD
Combine all of the ingredients in medium pot and cook over low fire until oats and porridge have right consistency, about 5 minutes.
Add a bit of boiled water or milk if the porridge is too thick.
Share to the bowls.
Top with fruits, seeds, nuts. Sprinkle with sugar or drizzle with honey or syrups for extra sweetness, if using.
Enjoy!
Makes 4 portions.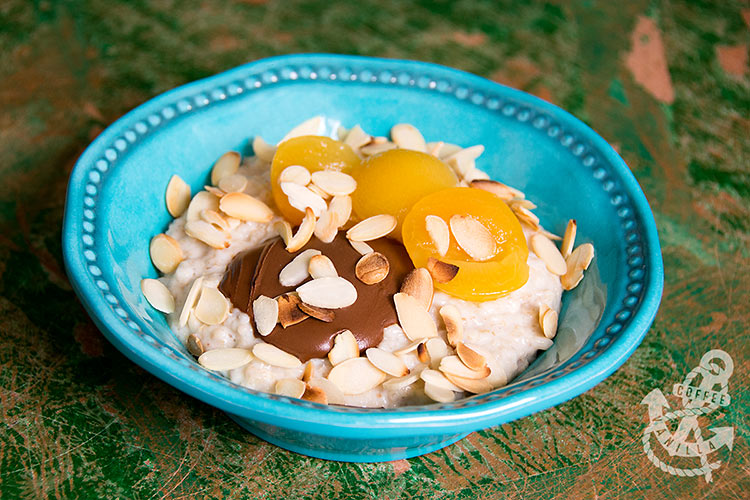 OUR FAVOURITE TOPPING COMBINATIONS
tinned fruit cocktail / toasted almond flakes / swirl of chocolate spread
fresh apple / toasted almond flakes / pinch of cinnamon / molases sugar (apple crumble)
tinned peaches / toasted almond flakes / sunflower seeds / honey
fresh strawberries / blanched hazelnuts / chocolate spread
tinned clementine segments / poppy seeds / honey
banana slices / walnuts / pinch of cinnamon and nutmeg / muscovado sugar (banana bread)
tinned pineapple chunks / dedicated coconut / agave syrup (piña colada)
grated apple / walnuts / flax seeds / molases sugar
TIPS
On warmer days I like to soak overnight oats in the fridge and eat them cold, instead of having them cooked.
NOTES
More flavour combinations to come soon… stay tuned.
For more autumn recipes using oats, check out our Warm Chocolatey Porridge with Fruits, Seeds & Nuts, Sugar Free Almond & Sultana Breakfast Oatmeal, Spiced Oatmeal with Pecans and Cinnamon or Sugar-Free Pumpkin Seed & Cranberry Breakfast Porridge.
If you are looking for more fall breakfast ideas, take a look at Michelle's Gigandes Plaki – Greek Giant Baked Beans, Buttered Polenta with Honey & Seeds,  Rob's Huevos Rancheros with Avocado Rocket Toast, our Egg Salmon Bagel Sandwich with Spring Onions or Zapiekanka – Polish Street Food – Grilled Sandwich with Cheese & Mushrooms.