Zapkiekanki are "traditional" Polish fast food… originally they have been sold from small camping trailers parked in different parts of the city.
During my childhood in communist Poland zapiekanki were sold everywhere and they were prepared in small electric ovens inside mentioned trailers. At the time it was the best (and the only) fast food sold in Poland…
Ok, except for potato fries with fried liver and sour cabbage salad that my father used to buy whenever my mom was ill and he had to cook dinner :)
There is still one zapiekanki trailer (or at least it was there couple of years ago) near the train station in central Warsaw.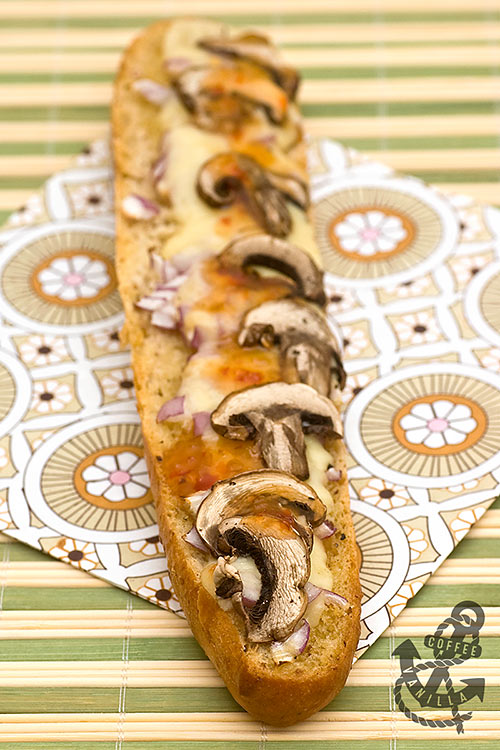 INGREDIENTS
baguette (halved lenghtwise) – I used wholegrain one
butter
onion (chopped finely) – I used red onion
chestnut mushrooms (sliced) or some dried wild mushrooms (powdered)
not too mild cheese (sliced or grated) – I used mature Cheddar but in Poland I would probably use Morski
freshly ground black pepper
tomato sauce (ketchup) to serve or any other favourite sauce – I used sweet chilli sauce
EQUIPMENT
baking tray with rack
paper napkins
METHOD
Preheat oven to 200°C (392°F), if you have grill option in your stove turn it on but you can do without it too.
Butter baguettes, especially edges as they will burn easily if they are too dry.
Top them first with onion, then cheese and mushrooms. Sprinkle with freshly ground pepper and place on the rack in the oven.
Bake until cheese is melted and browned.
Serve immediately wrapped in paper napkin and topped with you favourite sauce.
NOTES
More street food ideas from around the globe: South African Durban bunny chow from Cook Sister, Japanese chicken kebabs from Greedy Gourmet, American hot dogs with Korean twist from Steamy Kitchen, Middle Eastern falafels from Rosa's Yummy Yums or Caribbean chicken and pineapple kebabs we often make.
I'm submitting this to May Inheritance Recipes hosted by myself and Solange of Pebble Soup.