[inspired by recipe from Dunn's River Jerk Seasoning]
They are light, quick and flavoursome, everyone will love them, they are also great for Father's Day.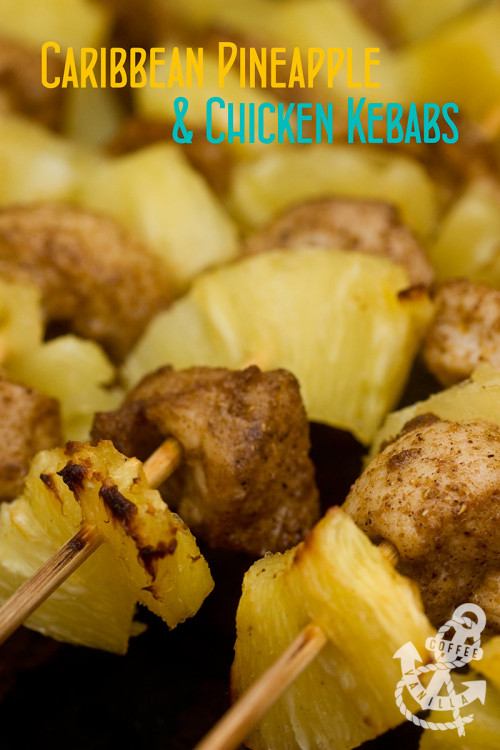 INGREDIENTS
4 large chicken breasts – about  900g (cubed)
3 tbs oil (I used olive oil)
1½ tbs Caribbean seasoning in powder (I used Dunn's River Jerk Seasoning)
1 tsp minced garlic or some fresh, crushed one
2 x 400 g tins of pineapple in juice, not syrup (drained and quartered if slices, but pineapple chunks would be better) or
large fresh, ripe large pineapple (cubed)
sweet red pepper (coarsely cubed) – optional
EQUIPMENT
8 – 10 bamboo skewers (soaked in the water for about 2 hours)
baking tray
METHOD
Place cubed chicken, seasoning & oil in a mixing bowl and leave in the fridge for about 2 hours.
In meantime let the bamboo skewers soak in the water.
Preheat oven to 200°C (392°F).
Stick on the skewers pineapple, optionally pepper and chicken chunks, hang them across baking tray so they wouldn't touch the bottom of the tray.
Bake for about 20 minutes or until chicken ready and pineapple browned, serve immediately with Rice & Peas and some avocado  on a side.
Serves 4 people.
NOTES
More Dominican & Caribbean recipes.
More Summer recipe ideas.
More Father's Day recipe ideas.
More low calorie recipes.
More party food ideas.