My mother did not make a lot of desserts but she had couple of tried and tested cake recipes for special occasions. And if we wanted dessert, we were getting budyń… quick and easy to prepare from cupboard ingredients, versatile dish that can be served warm or chilled – perfect for any season.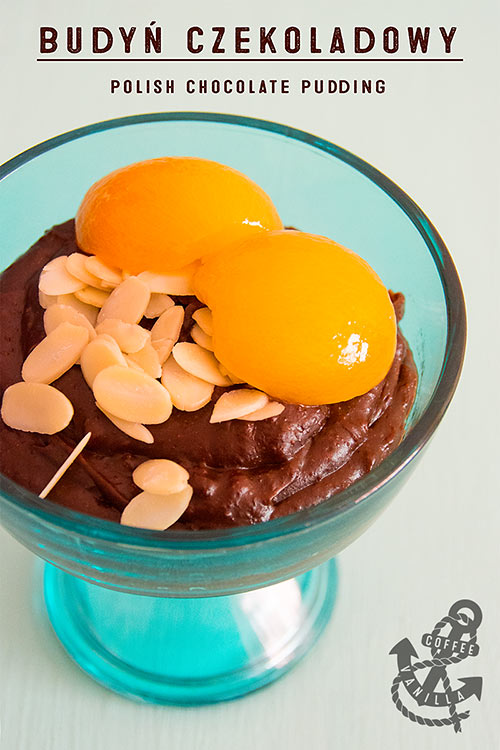 INGREDIENTS
for vanilla pudding
4 cups of milk
12 tbs plain flour
6 – 8 tbs caster sugar
seeds from 1 vanilla pod – optional
2 tbs unsalted butter
1 tbs vanilla extract
for chocolate pudding
4 cups of milk
12 tbs plain flour
8 tbs caster sugar
6 – 8 tbs cocoa powder
2 tbs unsalted butter
1 tsp vanilla extract
toppings
almond flakes, desiccated coconut, hazelnuts etc.
tinned or fresh fruits
syrups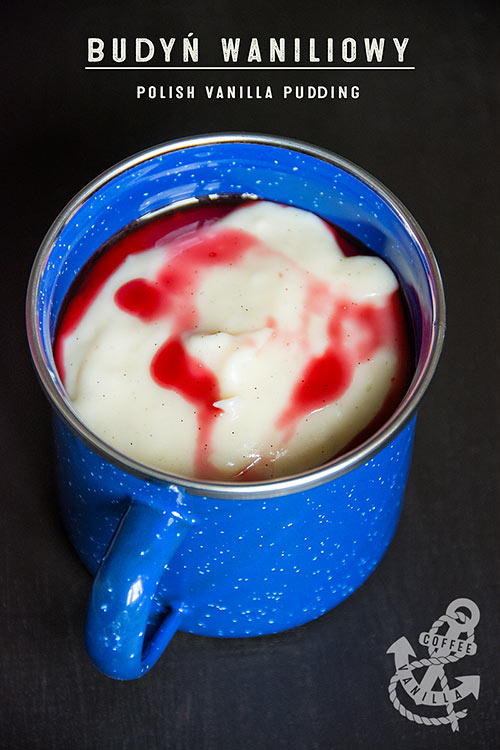 METHOD
Combine all of the dry ingredients in a pot, top with half of the milk and stir until smooth.
Add rest of the milk and heat over low fire stirring constantly.
Once the mixture is starting to get thicker, add butter.
Let it cook for a bit longer, until pudding is all bubbling. Stir all the time.
Turn off the fire, add vanilla extract and give it one more stir.
Share budyń to the serving dishes, top with your favorite toppings.
Enjoy right away while still warm or chilled.
Makes 4 portions.
TIPS
We like the best chocolate pudding with flaked almonds and canned fruits and raspberry or cherry syrup on the vanilla one. Alternatively some fresh strawberries would work extremely good on the vanilla pudding as well.
My mum used to use mixture of potato and plain flour but I prefer to use plain, wheat flour alone, it gives budyn creamy texture, opposite to the potato flour that makes it a bit translucent, jelly like… better for kisiel, Polish fruity kind of pudding not this one.
When using vanilla pod, do not discard the pot, use it to make vanilla sugar.
NOTES
More Polish recipes.
More desserts.
More quick meals.
More warming up autumn dishes.
I'm adding this recipe to November Inheritance Recipes link-up hosted this month by Solange, please join us sharing your inherited recipes!