Whether you like to decorate home, knit, crochet, sew or simply enjoy beautiful things around you Linens Direct is a place for all your needs, well almost… You can buy there practically anything for the house from bedding for bedroom, through bathroom towels to décor for children's room, pet accessories or even some lighting. I really liked the lantern with led candle inside and retro style radio cushions (pictures below).
I have discovered Linens Direct for the first time when we just moved to Brighton and I was in desperate need of vinyl kitchen table cover, over year later the cover is still in surprisingly good condition.
Chunky James C. Brett marble wool has been on my shopping list for a longer while ever since I used their DK marble yarn to make scarves for myself and my girls. I have also experimented with speckled Thomas B Ramsden DK wool in many of my project, even recently making this compact mirror pouch with matching perfume atomizer case.
Beneath couple of my picks from Linens Direct store.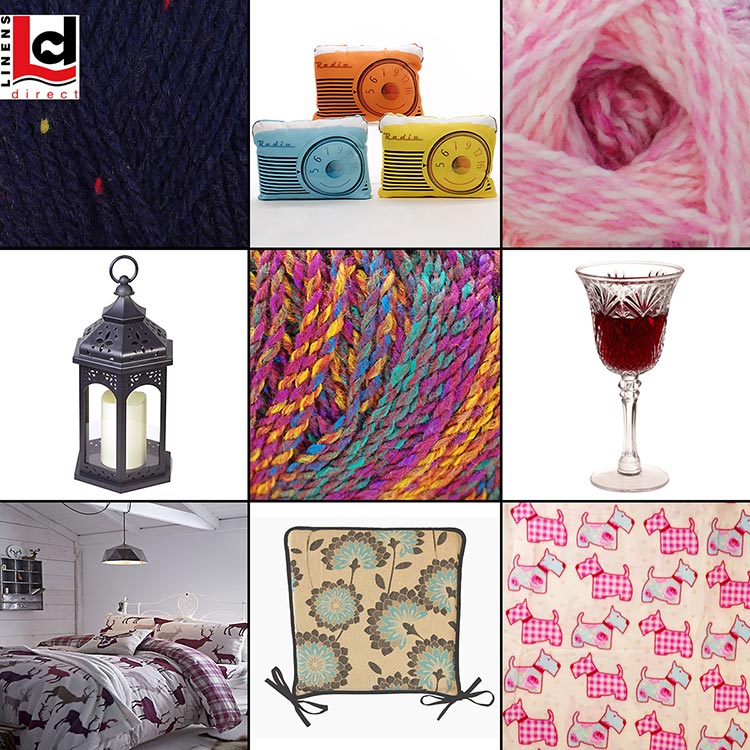 From the top left: Thomas B Ramsden Heather FX Double Knit Wool, retro style Radio Cushions, James C. Brett Baby Pink Double Knit Marble, Hexagonal Lantern With LED Candle, James C. Brett Purple – Green Marble Chunky Wool, Set Of 4 Wine Glasses, Grampian Stag Duvet Cover Set, Premium Seat Pad Layla, Scottie Fleece Blanket.
And as Mother's Day is approaching shortly Linens Direct may come handy to find some great gift for her… I'm a mum and the whole bunch of beautiful marble yarn or luxurious towel bale would definitely make my day, more than flowers or chocolates :)
Please note that additionally to already discounted prices they offer wholesale rates to businesses, schools, hotels, restaurants and other venues.
If you are not a fan of on-line shopping they have nearly 40 branches all over UK, check your nearest Linens Direct location here. For Brighton readers – there is one located on 48 – 50 Western Road.
DISCLOSURE: This is commissioned post for Linens Direct. All opinions expressed here are my own and I retained full editorial control.
Photo credit: Linens Direct.