We love all curries in this house, especially the grown up part of the family but green Thai curry is something we have never attempted before and now it is one of our favourites along Caribbean chicken curry, white fish curry, curry mackerel or veggie curry, Japanese katsu curry, smoked fish masala, red lentil curry and korma of course.
This is the third test… the previous two tries were not so perfect, one even turned into green Thai curry soup ;) The final version was the best comfort food we had in a longer while: delicious, creamy, lemony, sweet, spicy and extra soft (!)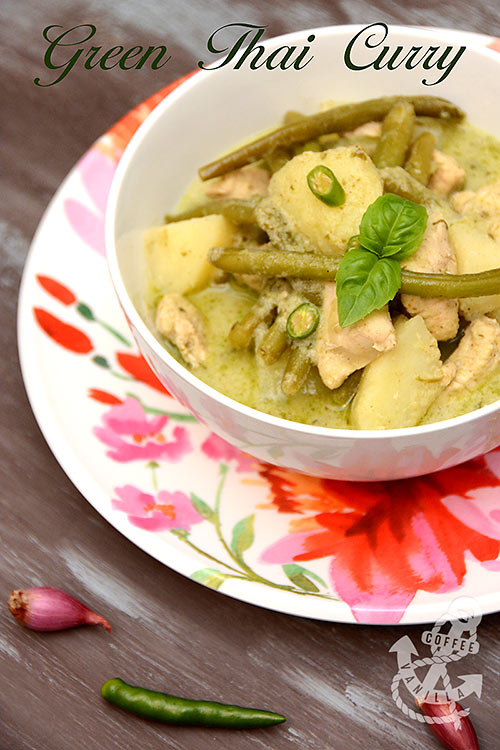 INGREDIENTS
for the curry green Thai curry paste
2 long lemon grass stalks (chopped)
2 lime juice
1 lime peel (grated)
small bunch of coriander with stalks (about 30 g)
5 cm / 2 inches long piece of ginger root or even better galangal root if you can find one (peeled, sliced)
½ garlic head (peeled)
handful of shallots or 1 onion (peeled)
1 tbs ground coriander seed
½ tbs ground cumin
couple of small green chilli peppers – optional (we skip those because of the kids and then sprinkle only our plates with some chopped chillis)
3 tbs oil (we used cooking olive oil)
for the chicken curry
1 kg chicken breast
1 kg potatoes (peeled & cubed)
1 kg green beans (we used frozen)
250 ml coconut cream + 1 cup of boiling water or 2 x 250 ml tins of coconut milk
½ creamed coconut bar / about 100 g (chopped) – optional 
1 tbs fish sauce (or some soy sauce)
1 tbs (or to taste) golden caster sugar
sea salt – to taste 
Thai basil or sweet basil (chopped) – to serve
cooked rice – to serve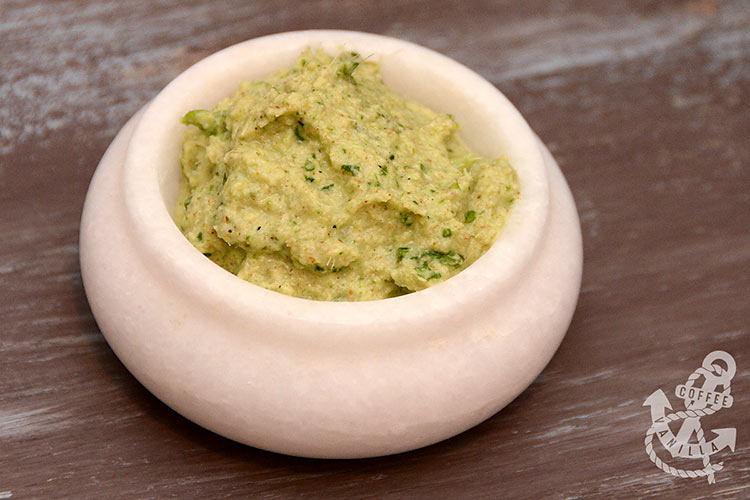 EQUIPMENT
large pot with lid
blender
METHOD
Blend all ingredients for the curry paste until smooth.
Place chicken, curry paste and some of the coconut milk in the pot, mix and heat until chicken is all covered in the sauce and starting to cook.
Add rest of the ingredients, except for salt, sugar and basil, bring to boil.
Reduce fire, cover and cook for about 30 – 40 minutes or until potatoes and chicken are ready.
Season to taste with salt and sugar.
Share to the plates with rice, sprinkle with freshly chopped basil and enjoy.
Makes enough curry for 10 people or family of 5 for two days.
TIPS
Some supermarkets sell ready Thai mix including galangal, lemon grass, shallots, green chillies and sometimes also garlic.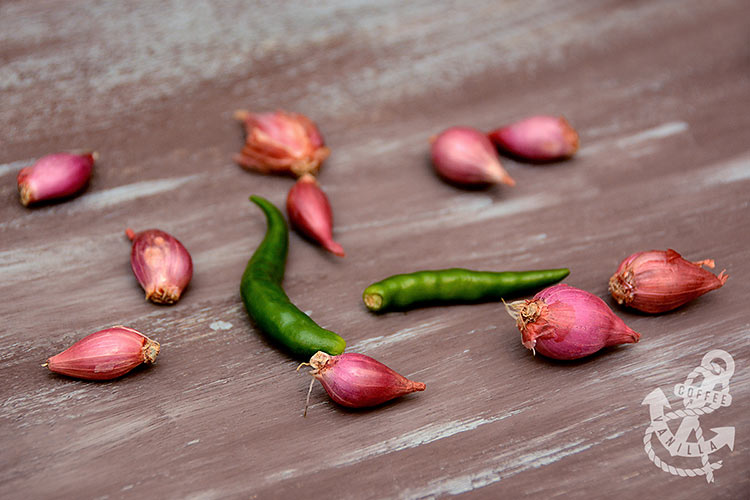 NOTES
For lower in calories version skip the creamed coconut. We like to add it for extra creaminess but it is not necessary.
If you are looking for more interesting curry recipes, check out Lucy's One-pot Thai Fish Stew, Camilla's Egg, Leek and Potato Curry, Nazima's Crab and Coconut Curry, Sarah's Thai Prawn Curry with Clams, Lucy's Slow Cooker Malaysian-style Veggie Curry with Lime, Jane's Creamy Thai Fish Pie or Jemma's Quinoa, Cauliflower & Butternut Squash Curry.
More main dishes.
More Asian recipes.