This dish has been inspired by Mama Marley's restaurant in Ocho Rios, Jamaica that we have visited couple of times during our honeymoon.
INGREDIENTS
1200 g cabbage – two small cabbages, I used 1 green and 1 white (sliced finely)
400 g carrots (grated)
3 large bell peppers, red, yellow or orange and green (chopped coarsely)
2½ cup coconut milk powder or 300 g creamed coconut – 1½ bar + 3 cups hot water
4 tbs Caribbean mild curry powder (I used Tropical Sun)
black peppercorns
3 cups easy cook Basmati rice
6 cups cold water to cook rice
6 handfuls of roasted unsalted cashew nuts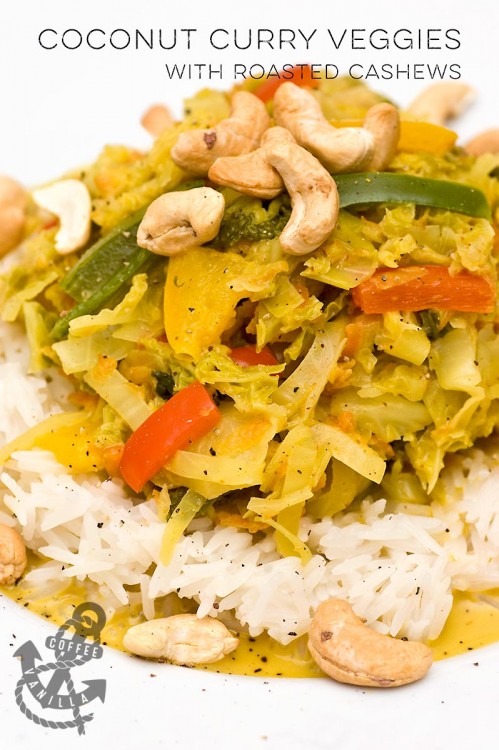 METHOD
In a large pot place cabbage, water, curry powder, coconut milk or creamed coconut and carrots.
Cook covered until cabbage is soft, add also peppers and cook only long enough to make them witted but still crunchy.
In meantime cook rice in covered pot, leave aside.
When coconut curry vegetables are cooked, season them with freshly crushed pepper and salt.
Share to the plates over rice.
Sprinkle with roasted cashews and some more cracked pepper.
Serves 6 – 8 people.
NOTES
If you are not planing to eat all at one time, better leave peppers aside, until you are ready to reheat your dish,  overcooked peppers are not so tasty, especially green one will turn bitter.
To roast cashew nuts yourself, place them on the tray and roast in 150°C (302°F) for about 20 – 25 minutes stirring from time to time.
Water and coconut milk powder can be replaced with freshly squeezed coconut milk if possible.
If you looking to try authentic Jamaican dishes at local prices in Ocho Rios then visit My Favourite Place inside the shopping centre… very recommended.