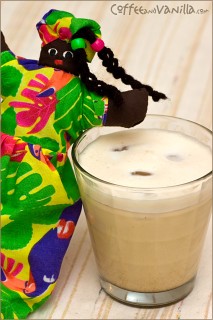 INGREDIENTS
1 cup smooth peanut butter
1½ cup hot water
1½ cup cold water
½ cup golden caster sugar or to taste
410g tin evaporated milk (I used Carnation milk)
1 tsp ground cinnamon – optional
¼ tsp ground nutmeg – optional

EQUIPMENT
blender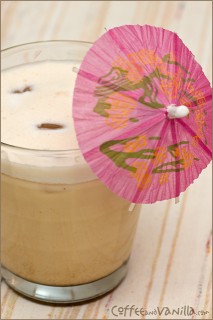 METHOD
Combine peanut butter, hot water, spices and sugar in a blender and mix until well combined. Add also cold water and evaporated milk. Blend again for a while. Serve over ice.
Make 6 small portions.
We just came back from our trip to Jamaica (read more about it here), and peanut punch was something I got addicted to. It is not available in the shops here in UK so I was trying to recreate it… and the result was quite good.
The doll on the picture came also from Jamaica, we brought it for our daughter and she loves it. It has two sides, once you fold up dress the other doll, that is upside down, is showing up. Very simple but smart toy ;)
I'm submitting this recipe to Monthly Mingle – Caribbean Cooking hosted by Meeta of What's For Lunch Honey?