[inspired by Tastee Patties in Jamaica]
INGREDIENTS
for the pastry
5 cups plain flour
250 g unsalted butter (chopped)
water
1 tbs paprika powder (replacement for ground annatto)
1 tbs turmeric powder (replacement for ground annatto)
¼ tsp salt
for the filling
1 large onion (chopped finely)
3 large carrots (grated)
3 tbs extra virgin olive oil
2½ mushroom or vegetable cubes (10 g each)
2-3 tbs mild Caribbean curry powder
hot sauce to taste
300 g dry soy mince
hot water to rehydrate soy mince
400 g (20 slices) of processed sliced cheese (replacement for Jamaican cheese from the tin)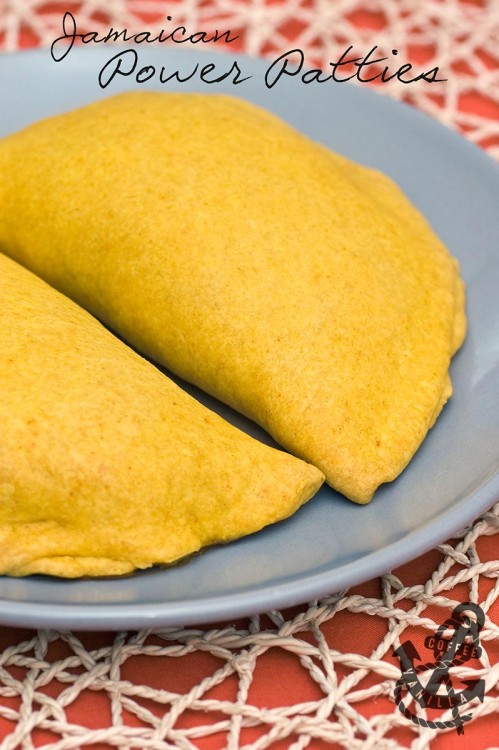 EQUIPMENT
2 – 3 baking trays lined with non-stick Teflon sheets or baking paper
15 cm / a little bit more than 5½ in wide cutter or some bowl to cut out circles from the pastry
large frying pan or wok
rolling pin
METHOD
To prepare the filling fry onions and carrots on olive oil until onions are golden.
In meantime rehydrate soy mince, place it in a bowl with mushroom / vegetable cubes and curry powder, add gradually enough water to make it soft.
Add rehydrate soy mince to the frying pan and continue frying until filling does not have any excess of water.
Season to taste with hot sauce and  leave aside to cool down.
To prepare the pastry combine flour, paprika, turmeric, salt and butter.
Mix with your hands until all butter lumps are gone.
Add gradually water to achieve soft but not sticky dough.
Roll out pieces of dough with rolling pin, cut out circle and stretch it a little bit more with your fingers or rolling pin.
On one half of the dough place slice of cheese and about two heaped table spoons of the filling, bring ends of the dough together and seal the patty with your fingers.
Place on the baking tray. Repeat the same until dough or filling is finished.
Bake in the oven preheated to 160°C (320°F) for about 25 minutes or until crunchy and golden / golden brown.
Serve hot.
Makes about 20 patties.
NOTES
Paprika and turmeric powder in the pastry are replacements for ground annatto seeds that give nice orange colour. They are very hard to find here in UK, so I replaced them and I think that colour came out almost perfect.
If you are not going to eat them straight away, turn of the oven when the dough is baked, but still pale. Continue baking just before serving. You can also leave half way baked patties overnight in the fridge and continue baking the next day. That is what we did with some of them and we had nice, fresh patties for breakfast :)
You may skip hot sauce in the filling and serve patties with sweet chilli dipping sauce.