This is one of our favourite ways to prepare couscous, with fresh veggies and some herbs, turning any season into Spring.
INGREDIENTS
500 g couscous
1 tbs Vegeta or other vegetable stock granules
3 tbs Carotino or olive oil
boiling water for couscous
1 tsp dried basil
1 tsp dried oregano
½ – 1 English cucumber (cubed finely)
1 large or two smaller bell peppers (cubed finely)
500 g tomatoes (cubed)
bunch of spring onions (chopped, green parts only) or chives
1 small red onion (chopped finely)
EQUIPMENT
wok or large, deep frying pan or wide pot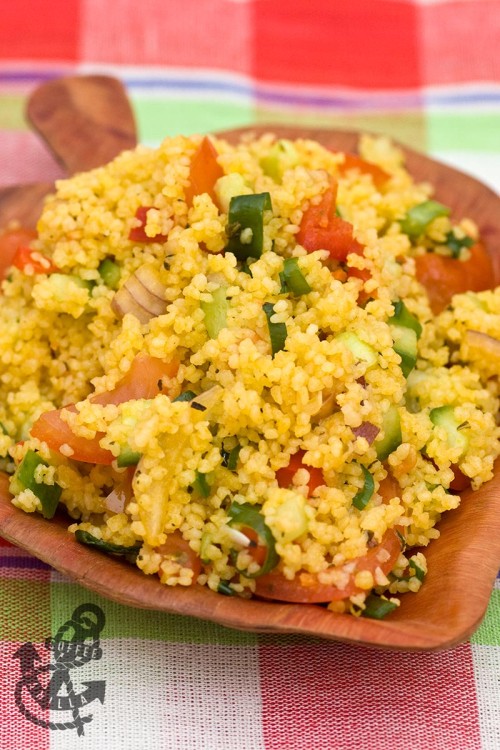 METHOD
When all vegetables are chopped place couscous, herbs, Vegeta and oil in a wok and heat stirring constantly until hot.
Add gradually hot water and stir until couscous is soft but not too sticky.
Remove from fire, stir in vegetables, season to taste with freshly cracked pepper and salt and share to the plates.
Serves 6 people.
NOTES
Spring couscous can be served warm or cold as a side dish or salad.
Dried herbs can be replaces with some fresh basil and parsley.
Cucumber and tomatoes can be replaced with other seasonal veggies.