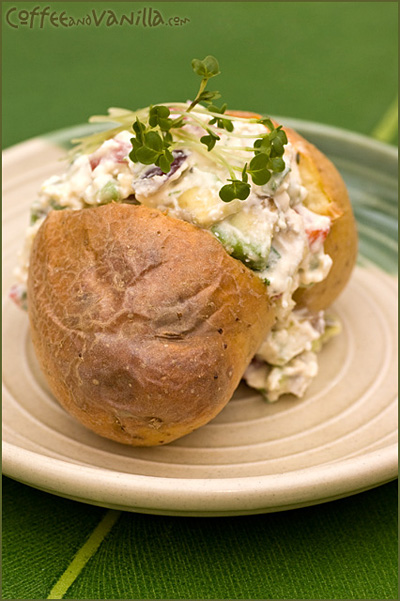 INGREDIENTS
2kg potatoes
300g hard cottage cheese / white curd cheese (mashed with fork)
1 cup natural yogurt
container of salad / mustard cress / 2 handfuls (chopped)
1 small red onion (chopped finely)
handful of fresh basil leaves (chopped)
black peppercorns
sea salt
1 large or 3 small ripe avocados – about 500g (peeled and cubed)
1 large red or orange bell pepper
METHOD
Bake potatoes in the oven preheated to 170°C (338°F) until soft.
In meantime combine cottage cheese, yogurt, cress, basil, avocados, onion and peppers. Season with salt and freshly cracked pepper.
When potatoes are ready, serve them to the plates, make cut in each of them and top with cheese mixture. Serve immediately.
Serve 6 people as a snack or light dinner, or more as a side dish.
This cheese mixture taste also good on toasted slice of bread with butter.