This is one of our favourite, quick curry recipes we often prepare in our house.
INGREDIENTS
1 large onion (diced)
oil or butter for frying
3-4 chicken breasts (cubed)
500 g potatoes (cubed)
500 g carrots (sliced)
2 cups of water
½ cup dessicated coconut (chopped cashews or flaked almonds can be used instead)
1 cup of coconut milk powder
2 tbs garlic mince or garlic powder
1 tbs ginger mince or some ginger powder
2 tbs medium curry powder
1 tsp turmeric powder
1 tsp ground cumin
red bell pepper (diced)
handful of coriander leaves (chopped)
4 tbs soured cream or yoghurt
sea salt to taste
to serve
toasted / grilled naan bread
cooked basmati rice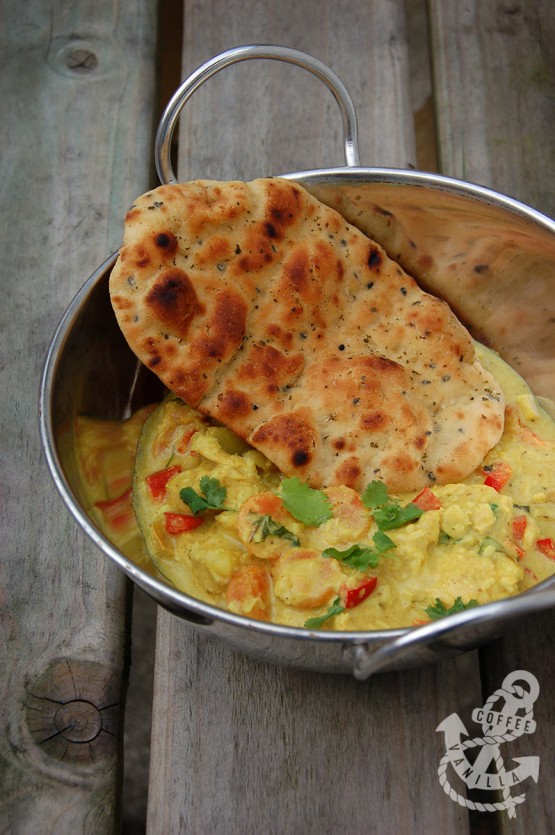 METHOD
In a large pot place onions with a bit of oil or butter and fry for a while, until onions are browned.
Add chicken, carrots, potatoes and fry some more.
Reduce the fire, add water, dessicated coconut, coconut milk powder, garlic, ginger, curry powder, turmeric, cumin and simmer covered until vegetables and chicken are soft.
Remove from fire, stir in freshly chopped coriander and bell peppers.
Season to taste with salt and soured cream.
Serve to the plates with some basmati rice or/and naan on a side.
Serves 6 people as a main dish.
NOTES
More curry recipes you might like: White Fish Stew with Caribbean Curry & Coconut Milk, Japanese Style Chicken Katsu Curry, Jamaican Style Coconut Curry Veggies with Roasted Cashews, Perfect Caribbean Chicken Curry with Coconut Milk, Egg Curry or Very Easy Chicken & Pineapple Curry.