Since I saw the first crochet cactus on Pinterest I just had to have it…  I'm still planning to make couple more cute mini cactuses with flowers for my window seal but first I had to make this gigantic one to store all my pins and needles that were all over the place. Now they stand safely on the top of our CD shelf, far away from little hands.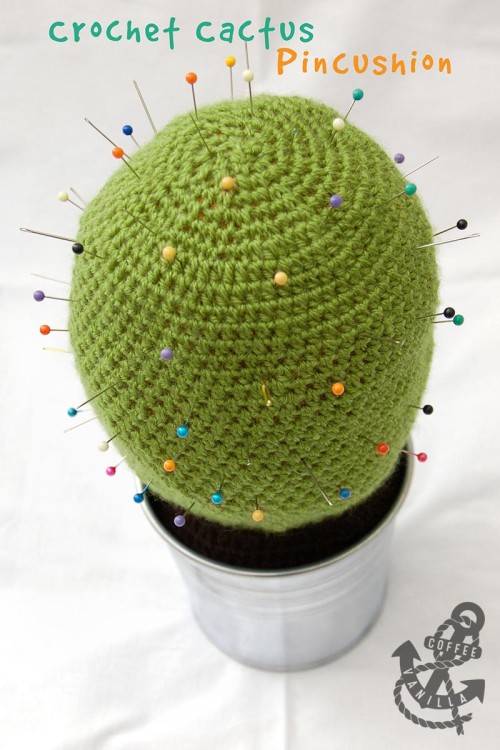 MATERIALS
green and dark yarn: black or brown for 4 mm hook
plant pot
piece of Styrofoam packaging (broken into pieces)
spare sock
EQUIPMENT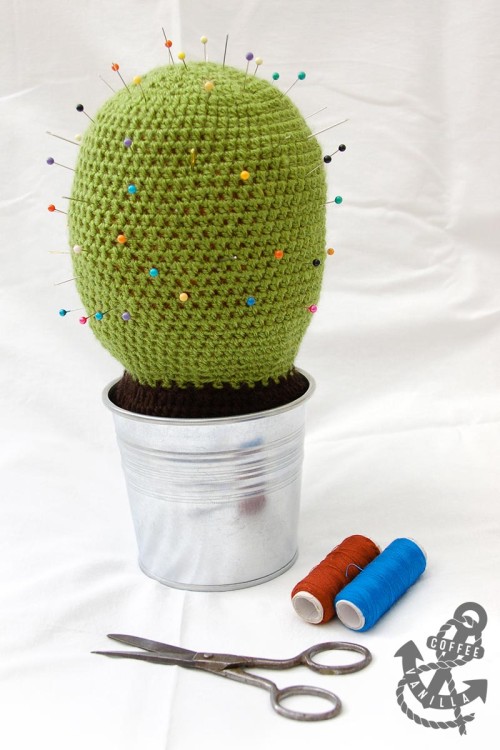 METHOD
Please note that names of the stitches in UK & US vary, this is UK pattern, click through for crochet stitches conversion chart.
stitches used: chain (ch), double crochet (dc), half treble (htr), slip stich (ss)
To make the cactus follow instructions for the apple cosy but make the base a bit bigger if you have plenty pins.
Once the cactus is long enough start decreasing: skipping some of the stitches in the foundation to make the cactus base thinner.
Connect dark yarn and start working again htr around and around until the dirt part is tall enough to fill the pot, close with ss.
Make crochet chain, thread it around the edge of the base.
Fill spare sock with broken pieces of Styrofoam, stuff cactus with it, tie the sock, tie the cactus with the crochet chain.
Place the whole thing in the pot and start using ready cactus plant to store all your pins & needles.
NOTES
It may be easier to make the cactus first and then look for the plant pot that will match it.
Use green sock if possible, other colours may be visible through the cactus surface (mine was red as you can see).
If you are more into needle felting than crocheting, check out this Needle Felted Cactus that can be turned into pin cushion as well.
More craft ideas.
More free crochet patterns.
More about succulents & indoor gardening.