[inspired by "Simple Crochet" by Sara Sinaguglia, pattern is my own]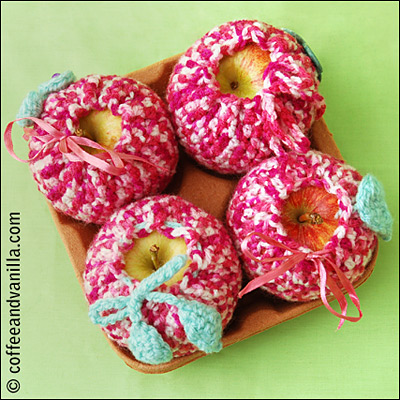 MATERIALS
about 12-15 g of yarn for 4 mm crochet – UK 8 / US 6 (2 colours if making leaves or flowers)
ribbon – optional
buttons – optional
beads with large holes – optional
EQUIPMENT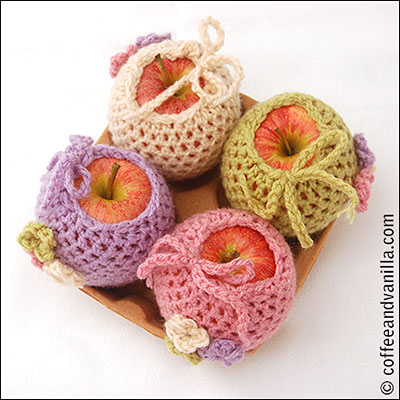 METHOD
stitches used: chain (ch), single crochet (sc), double crochet (dc), half double crochet (hdc), slip stich (sl)
for the cosy itself

FOUNDATION CHAIN
Start with 6 ch, connect ends of the chain with sl to create a circle.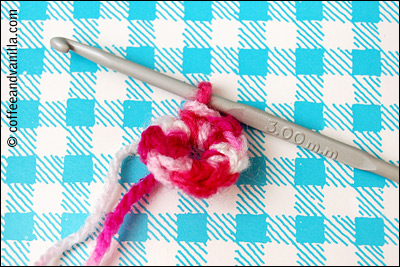 ROUND 1
Work 2 sc into each stitch of the foundation chain.
ROUND 2
Work sc adding extra sc into every second stitch of the foundation, continue like this to the end of the round.
ROUND 3
Work sc adding extra sc into every third stitch of the foundation for the whole round. You may need to extra sc more or less often depending on your yarn and crocheting style, just make sure it is flat. You may also need to make more than 3 rounds to make a base, it should be about 4 cm / 1½ inches in diameter. (Allow 5 cm / 2 inches for the base for larger apples.)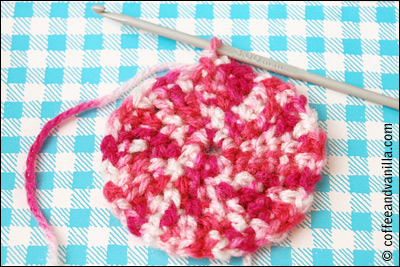 ROUND 4+
Work half double crochet (hdc) for as many rounds as it is needed to cover the apple, use an apple as your guide. When it will start getting rounded, turn the cosy inside out and continue.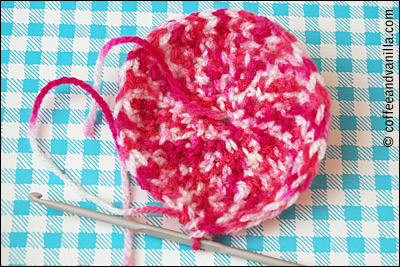 LAST ROUND
Once the cosy is tall enough finish with 3 sc and then 3 sl.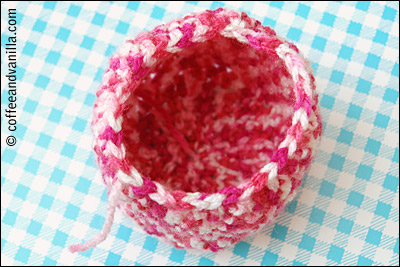 finishing touches
Now you can connect the ribbon (use crochet to pull it through the holes) or make crochet chain string instead, you will need to make it about 70 ch long.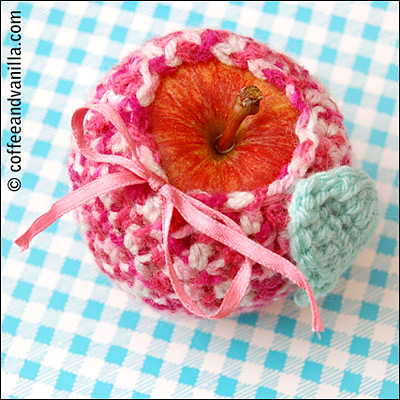 LEAF STRING
To make a leaf string make 70 ch string, once you reach the end start making a leaf, work into chain: 1 sl, 1 sc, 1 hdc, 2 dc, 1 hdc, 1 sc, 1 sl.
Do the the same on the other side of the chain.
Thread the string through the cosy and make another leaf on the other end to finish it.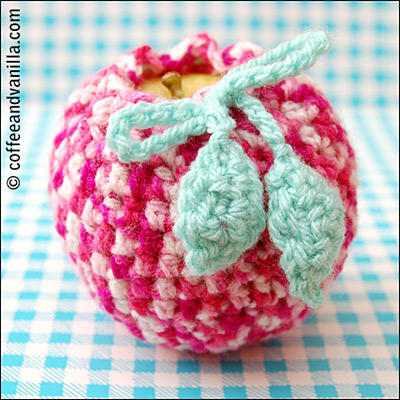 And a version with ladybird shaped button.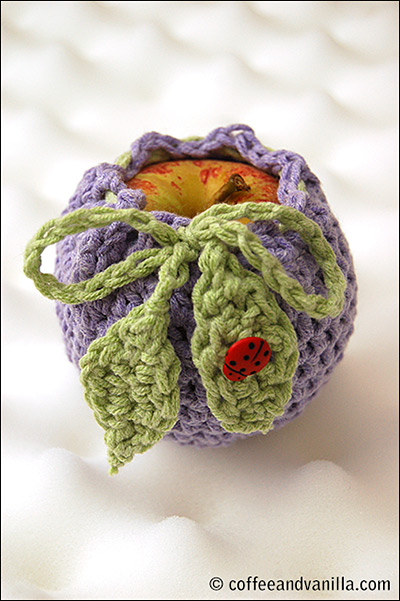 SINGLE LEAF
Make a chain 12 ch long.
Work into the chain 1 sl, 2 sc, 2 hdc, 2 dc, 2 hdc, 2 sc, 1 sl, repeat the same on the other side of the chain.
Connect to the cosy with the end of yarn.
BUTTONS
Thread each button with the same yarn.
Tie on inside of the cosy.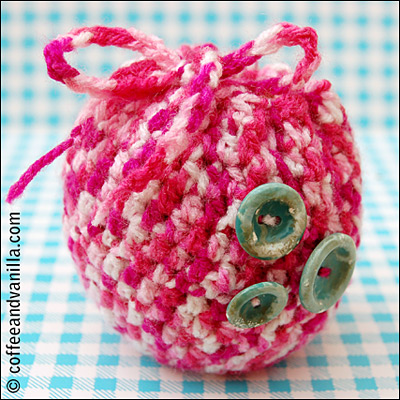 BEAD FLOWERS
Make 6 ch long chain, leaving a bit of extra yarn on the front.
Work about 9 hdc into the inside of the inside of the chain to create little doughnut shaped ring.
Close the ring with sl.
Use the ends of the yarn to thread the bead and then to connect each flower to the cosy.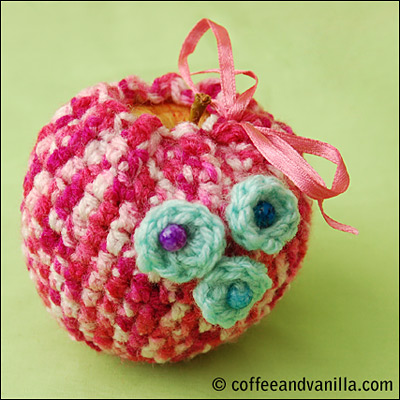 LITTLE FOUR PETAL FLOWERS

Make 70 ch string and thread through the cosy.
Then make 3 little flowers in different colours, you can find pattern for this and other crochet motifs here, and tie to the cosy on the inside using loose yarn ends from the flowers.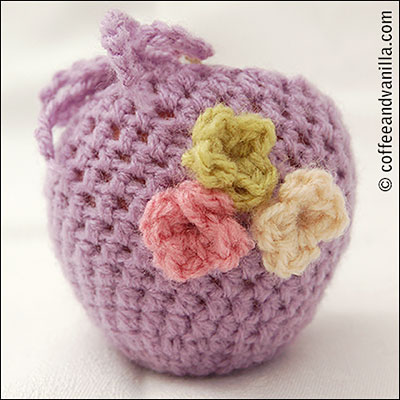 NOTES
It should take you about an hour, an hour and half to complete one cosy.
Just find some nice apple, wrap it in the cosy and voilà, your last minute DIY gift is ready (!)
Great for APPLE fans! :)