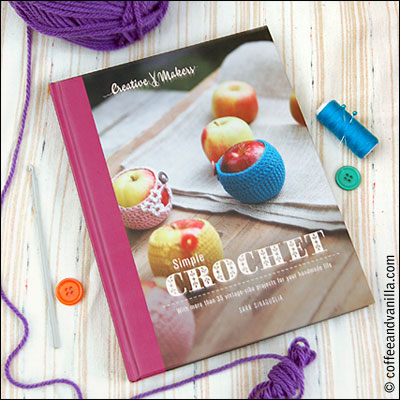 Since I was a child I loved crochet and I tried to learn it from my granny Nina but I have never had in my possession any crochet book for this simple reason that I could not find one that I liked enough to justify spending £10 or £15.
"Simple Crochet" by Sara Sinaguglia is different, fascinating and inspiring. One of those books you read many times not even to exactly follow the guidelines but to get new ideas. The photographs by Yuki Sugiura and the whole graphic part are as well amazing, capturing modern & vintage style of Sara's project in an exceptional way. Another plus is the edition – very pretty, sturdy hardcover with elegant mat pages.
Even if you are beginner, Sara's book contains step by step instructions, basic stitches and tricks, generally all you need to know to get you started if by chance you will fall in love with crochet while reading "Simple Crochet"… and I'm almost certain that you will.
The book includes 35 projects, some of them are pure crochet but many are mixture of sewing combined with crochet motives what I find very refreshing. You don't have to start with something big, it can be a little design that you will sew onto ready things, to make them look beautiful.
"Simple Crochet" is separated into practical chapters named after living areas like: Kitchen, Living Room, Bedroom, Bathroom, Children's Room and Out & About, giving you ideas how to make all your surroundings prettier and personal.
I have already started personalizing kid's pillows inspired by the idea of Sara's hand towels. Next I will be probably making frilly trim for my sister's knickers, I absolutely adore this idea! I may also use pattern for Ipad case and make something similar for my old laptop, to give it more character. Couple of days ago I showed the book to my 7 year old daughter, she could not take her eyes of it and begged me to make for her vase collars, bookmark and apple cosies, those last ones are extremely cute, I knew she would like them (!) I was thinking also to use somehow the concept of attaching crochet designs to the table runner, this is such a nice way to turn any plain piece of cloth into something truly special!
I would recommend "Simple Crochet" as a great gift for anyone who love to crochet, who want to learn how to crochet and even to those who haven't started their journey with the crochet yet but they love to sew. I  can assure you they will find it very useful… and inspirational.
The book is available through our Amazon.co.uk store.
"Simple Crochet"
AUTHOR: Sara Sinaguglia
PUBLISHER: Mitchell Beazley
FORMAT: Hardcover
SIZE: 248 x 194 x 22 mm
PAGES: 144
LANGUAGE: English
ISBN: 978-1845336998
PUBLISHED: 3rd September 2012
Different, fascinating and inspiring, one of those books you read many times!
5 out of 5 stars
Disclosure: I have received this product free as a part of Amazon Vine™ Programme and you can find this article between my other reviews on Amazon website. I was not financially compensated for this post. All opinions are my own.