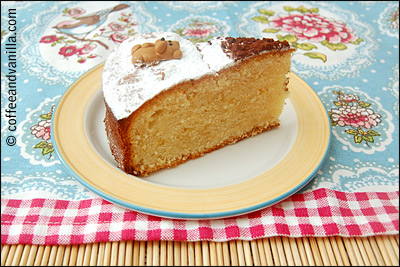 INGREDIENTS
1½ cups plain flour (250g)
1½ tsp / ½ tbs baking powder
1 bar (250g) unsalted butter (chopped and softened)
1¾ cup icing sugar (250g)
5-6 eggs (I used 6 small ones)
1 tbs vanilla extract
zest of 2 lemons
juice of 1 lemon
some more icing sugar for topping
cocoa powder and sugar decorations – optional
+ 2 tsp of butter to grease the tin
EQUIPMENT
9" (22,8 cm) round non stick cake tin with removable bottom
circle cut out from baking / parchment paper
wooden skewer
mixer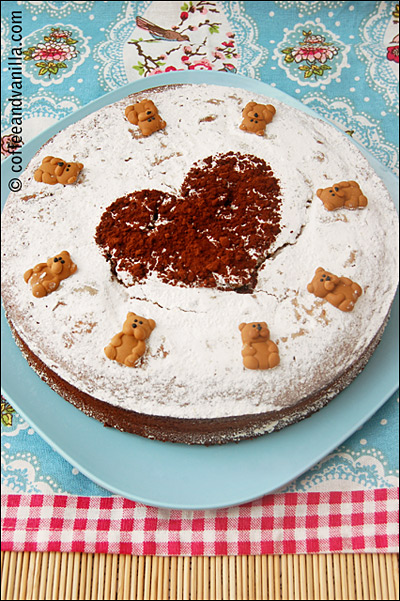 METHOD
Preheat the oven to 180°C (356°F).
Butter the tins with unsalted butter, place baking paper on the bottom of the tin and also butter it.
Beat the egg whites until stiff and leave aside.
In a mixer bowl place butter and icing sugar and beat until smooth.
Add egg yolks and vanilla extract and mix a bit more.
Then stir in flour mixed with baking powder.
Towards the end add lemon juice and mix until smooth.
Stop the mixer, add egg whites and lemon zest, stir with a spoon until well combined.
Pour the dough into buttered tin and bake for about 1 hour / 1 hour & 15 minutes. Check with the skewer if the middle of the cake is ready.
Remove from the oven, sprinkle with icing sugar, we used also stencil and some cocoa powder plus ready sugar bears for decoration.
Let the cake cool down completely before sharing.
Make 8-12 servings.
(We shared the cake into 8 large pieces so everyone would get a teddy bear.)

NOTES
The cake taste even better next day, store it wrapped in aluminium foil or air tight container in the fridge.
I made this quick cake today for my husband's birthday, girls insisted on topping it with the teddy bears…
Happy Birthday Michael!