[inspired by Wagamama]
INGREDIENTS
cooked white rice to serve (about 2 cups uncooked rice)
for breaded chicken
4 pieces of chicken breast (sliced)
1 large egg (lightly beaten)
about 1 cup of fine breadcrumbs
30 g unsalted butter or some oil for frying chicken
½ tsp sea salt
for curry sauce
[adapted from The Independent]
1 onion (finely chopped)
½ garlic head – about 5 – 6 cloves (finely chopped)
1 tbs oli for frying
2 – 3 carrots (finely chopped)
2 tbs plain flour
1 tbs mild/medium curry powder
1½ chicken cubes (10 g each) dissolved in 2½ cups of boiling water (about 600 ml)
1 tbs clear honey
1 tbs soy sauce
1 – 2 bay leaves
½ tsp garam masala powder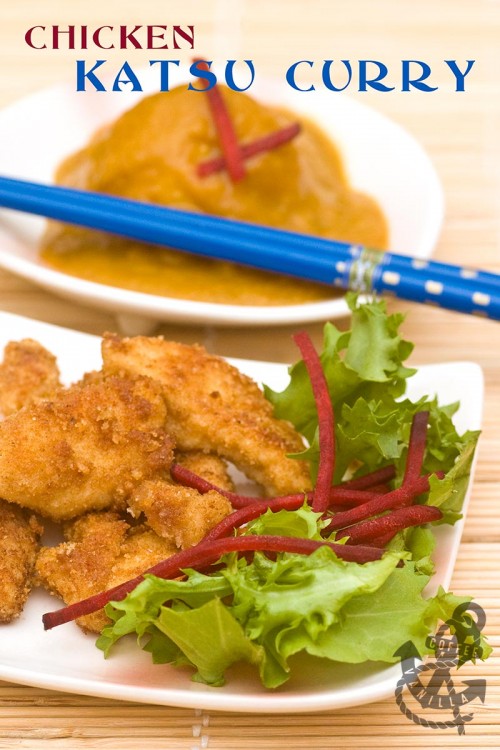 EQUIPMENT
small baking tray
baking paper
non stick frying pan
pot with lid to prepare sauce
hand blender
METHOD
To prepare sauce fry on oil onion and garlic for couple of minutes, add carrots and fry a while longer until they are starting to caramelize.
Reduce fire, cover with lid and simmer until carrots are soft.
Then add flour, curry powder, chicken cubes dissolved in water, honey, soy sauce, bay leaves and bring to boil.
Cook uncovered, until sauce is thick but still have some liquid in it, for about 20 minutes.
In meantime start cooking rice and preparing chicken.
To prepare breaded chicken, season it with salt, combine with egg, deep in breadcrumbs and fry in two or three portions on both sides for couple of seconds, only until golden.
Move to the baking tray lined with baking paper. Bake in the oven preheated to 200°C (392°F) for about 15 minutes.
To finish the curry sauce remove it from fire, add garam masala powder and blend, using hand blender until smooth.
Serve chicken to the plates with rice on a side topped with curry sauce and some salad.
Serves 4 people.
NOTES
Originally chicken was breaded, deep fried and then sliced.
Originally curry was served with some mixed leaves and pickle salad. I served it with Sweet & Sour Salad with Beets and Peppers.
Prepared my way chicken taste great on it's own without the curry sauce, with some baby potatoes and salad on a side, my family love it. It is great also for lunchboxes.
I will be still trying different versions of curry sauce so stay tuned. It tasted great but the sauce from Wagamama I had a while ago, together with Joanna & Giuseppe, seemed more creamy than the one I prepared.