This is one of my favourite childhood recipes. Unfortunately they are quite time consuming so we haven't had them as often as I would like.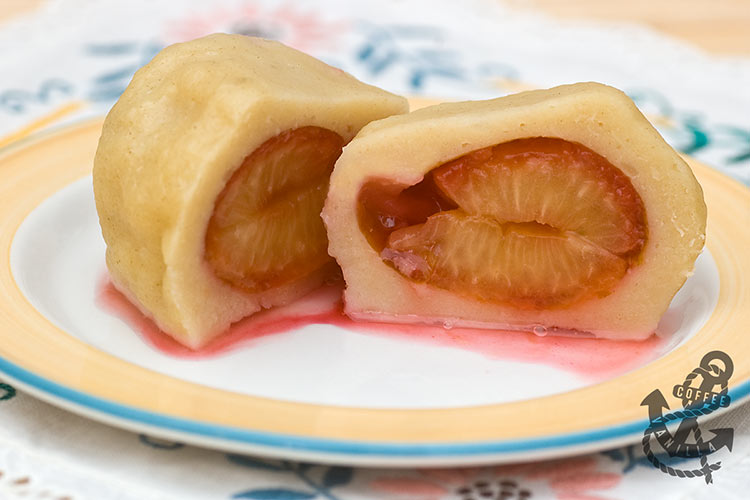 INGREDIENTS
1 kg large potatoes (cooked in skin)
2 eggs
5 cups of plain flour + some more for working surface
1 kg plums (I used red Satsuma plums but Damson / Damask plums would be the best)
½ tsp salt + some more for salting water
for topping
1 cup of soured cream
sugar to taste
or
½ cup of breadcrumbs
125 g / ½ bar unsalted butter
sugar and salt to taste
EQUIPMENT
two large wide pots
potato masher
small knife to remove stones from the plums
slotted spoon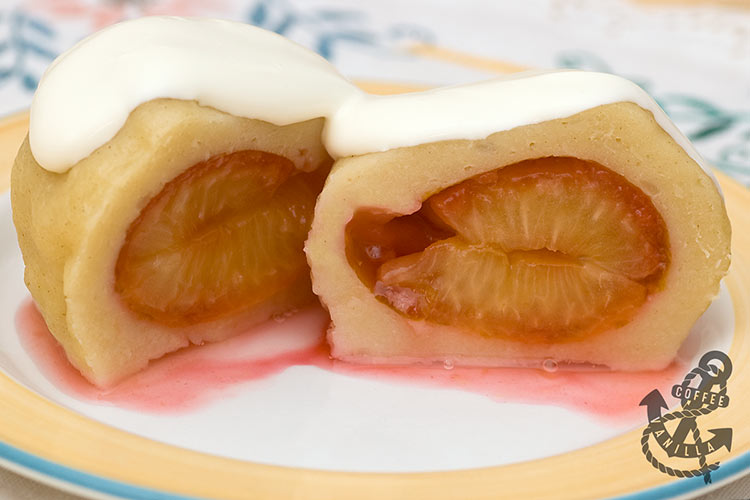 METHOD
Place whole potatoes in the skin in a large pot and cook until soft.
In meantime cut each plum following the vertical line on their skin to remove stone but try to keep it in one piece. Leave aside.
Once potatoes cooled down a little bit, peel the skin, place in a mixing bowl and mash together with eggs. Add ½ tsp of salt and gradually flour and knead on floured surface until well mixed and firm.
Put two large pots of water to boil adding some salt.
Take a piece of potato dough in your hand, create a ball, flatten it, place plum in the middle and wrap it creating ball from the dough again, leave on floured surface.
Once all of the knedle are ready place them in pot of boiling water.
Cook for about 15 minutes, remove from the pot with slotted spoon and serve immediately topped with sweetened sour cream or melted butter with breadcrumbs.
Makes about 20 large knedle (allow 2 – 3 per serving).
TIPS
If plums are very sour add some sugar inside before wrapping them in potato dough.
Smaller dumplings (with Damask plums) can cook a little shorter than 15 minutes.
Leftover knedle can be easily re-fried next day on butter with breadcrumbs.
Knedle taste good as well topped with cream.
If you don't have two large pots just cook half of the dumplings at the time. It is better not to place one on the top of another while cooking.
Plums can be replaced with other fruits such as strawberries or apricots.
NOTES
More plum recipe ideas: Spiced plum semifreddo by Jeanne of Cook Sister, our Kompot Śliwkowy – Polish Plum Compote or Spiced Sour Plum Crêpes with Vanilla Cream & Toasted Almonds.