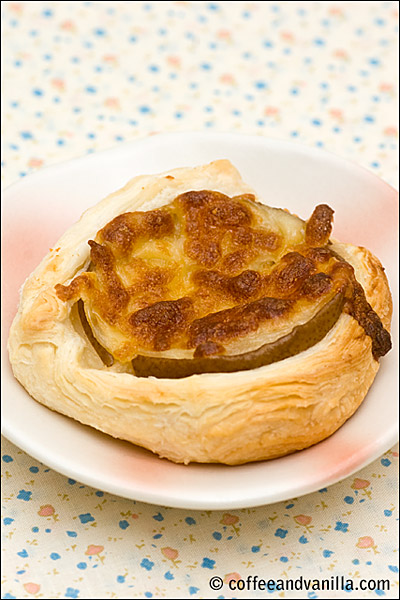 INGREDIENTS
500g ready to roll puff pastry
4-5 large pears (halved, cored and sliced)
250g grated mozzarella cheese
sweet chilli sauce to serve – optional
EQUIPMENT
rolling pin
4 individual sandwich trays
METHOD
Divide pastry in 4 squares for large pastries or into 16 mini squares and roll them until about 3 mm thick.
If making 4 large pastries, roll the pastry and stretch to cover bottom and sides of the sandwich trays. If making mini pastries you should be able to fit 4 or them on each tray, bend the edges of each pastry to keep feeling inside.
Top pastries with sliced pears, sprinkle with grated mozzarella and place in the oven preheated to 200°C (392°F).
Bake until pastry is golden and cheese browned.
Serve with some sweet chilli sauce or itself.
Make 4 large or 16 mini pastries.
I usually make 3 large and 4 mini pastries (the last ones for my daughter).
Serve with some green salad on a side.
Those pastries taste good warm or cold.