As only two days left to the Pancake Day I thought you would like to know about Asda's Pancake mix-o-meter, very smart online calculator that tells you how much flour, eggs, milk and oil you need to prepare pancakes for certain amount of people… additionally you can choose how many pancakes per person they will need.
I made 30 (22 cm in diameter) pancakes! Big thanks to my mum who was patient enough to fry all of them, while I was working on the filling.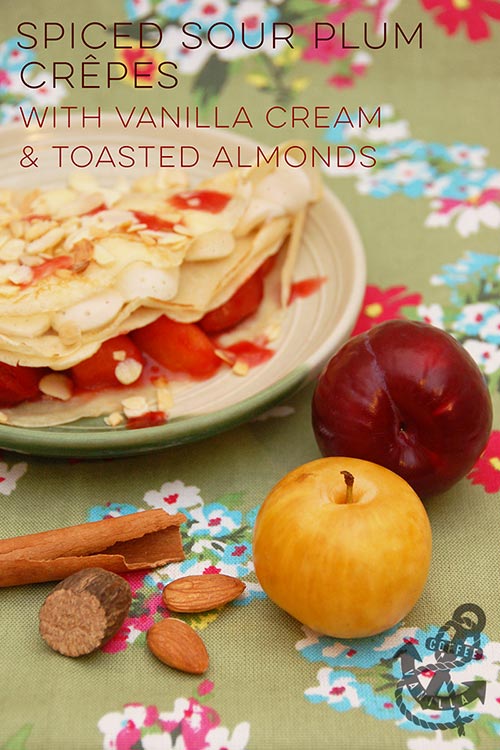 INGREDIENTS
for the pancakes
500 g plain flour
8 large free-range eggs
1400 ml semi – skimmed milk
4 tbs sunflower oil
for the filling
750 – 800 g of plums (I mixed two punnets of golden and red plums)
about 4 tbs of golden caster sugar for the plums
pinch of freshly grated nutmeg
½ tsp of ground cinnamon
600 ml fresh whipping cream
1 cup golden caster sugar
1 vanilla pod
100 g almond flakes
EQUIPMENT
27 cm diameter non-stick frying pan
spice grater
hand whisk or blender to mix the pancake batter
food processor to whip the cream
large saucepan for the plums
mixing bowl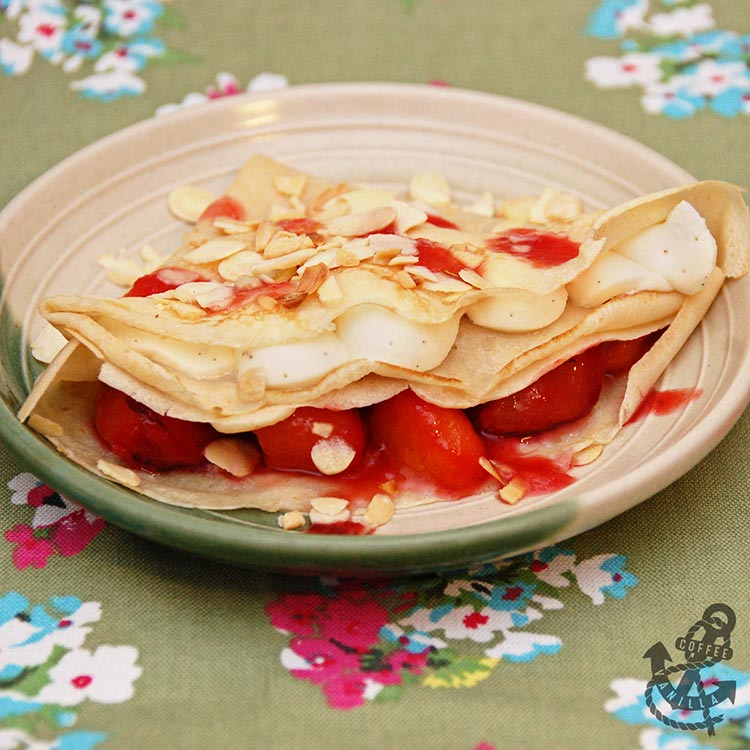 METHOD
In a mixing bowl combine all ingredients for the pancakes, use hand blender or whisk to make it faster. Leave the pancake batter aside for about 30 minutes to rest.
In a saucepan sauté de-seeded and cubed plums together with cinnamon and nutmeg until soft and juices have thick sauce consistence. Season to taste with a bit of sugar, not too much because we want them to be sour. Leave aside to cool down.
On a frying pan toast the almond flakes until browned and fragrant, transfer them to some container, but do not cover until completely cooled down.
Whip also the cream with golden caster sugar and seeds scraped from one vanilla pod. Place ready whipped cream in the fridge until everything else is done.
Once all the filling are ready start frying the pancakes, stack on the top of each other to keep them warm.
To assemble the pancakes fold each of them in four and fill with table spoon of plums and generous portion of the cream. Sprinkle the top with toasted almond flakes.
Enjoy while still warm or cooled down.
Makes about 30 pancakes.
NOTES
I'm submitting this recipe to Asda's Blogger Pancake Challenge.
Couple of fun facts for pancake day from Asda and a bit of historical info on Pancake Day I wrote earlier.
Some more pancake recipes and other Fat Tuesday ideas.
Pancakes, spiced plums, tasted almonds and even whipped cream can be easily prepared day in advance and served the following day chilled.
We did not manage to eat 6 pancakes each of course and had lots of them plus whipped cream, plums and almonds leftover so it was even enough for next day breakfast :)
Do not discard vanilla pod, it can be used later to make home-made vanilla sugar.
If you are feeling a bit more adventurous you could try making poppy seed pancakes instead of the plain ones.
DISCLOSURE: This article has been written in collaboration with Asda. All opinions expressed here are my own.