My itchy, watery eyes and eczema round them has started when I came to UK, Autumn / Winter months mostly but I may be wrong. This time it has definitely has started during Autumn, in October 2013, we are in 2014 now and the allergy hasn't stopped yet… My guess is that the mould or the dust mites are the cause.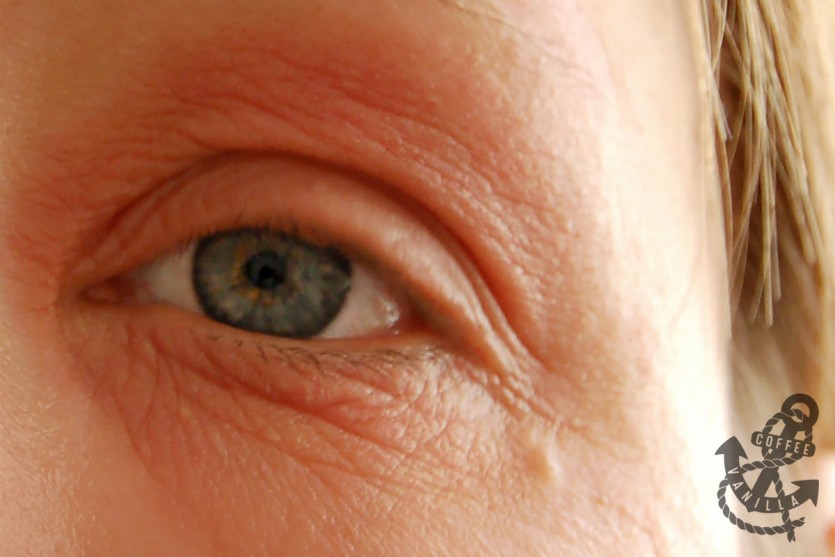 We have changed flats recently (from London to Brighton) but it did not help, all of the symptoms persisted or even got worse. So I went to the doctor again and as usual (over the last few years) I was prescribed another steroid cream which only helped when applied and then make things even worse leaving skin dry and transparent like tissue paper. My face, especially the eye area, was horribly cracked and sore, I stopped using make up except for the days I had to go out. I could not use even creams made for babies or dedicated to allergy prone skin – it was too painful. I lost hope it will ever get better. I did not feel comfortable getting my daughter from school with my " lizard eyes" not even talking about meeting my clients or looking for new jobs (I'm freelance photo retoucher).
After reading this article on Lux Life I decided to give a try to Dr. Organic's Manuka Honey Rescue Cream (I have found it at Holland & Barret). It did not cure the allergy of course or swollen eyes but my cracked skin has almost disappeared… Thank you Catherine!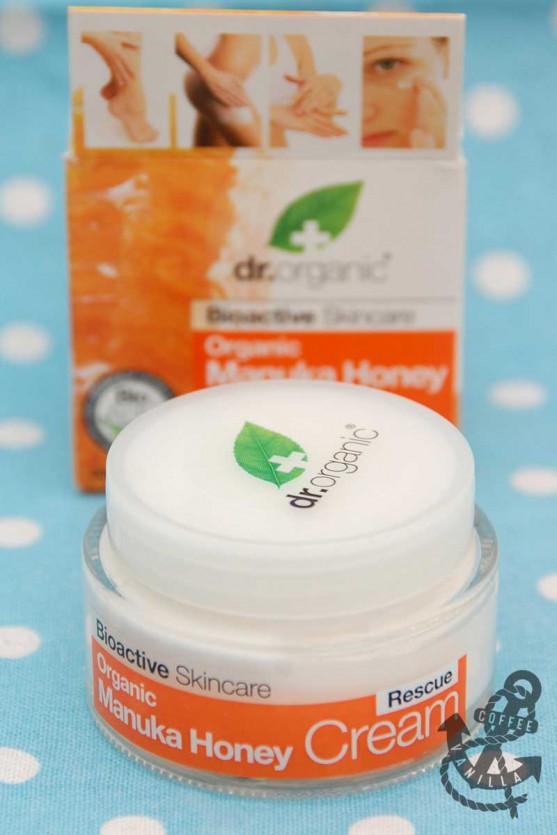 Except for the Manuka honey cream around my eyes and for the entire face I use only food grade almond oil to remove makeup.
I eliminated all of the colour cosmetics I had and started from scratch. I'm using now only 100% pure mineral foundation powder, eye shadows and mascara from Beautiful Movements Cosmetics, nothing else.
Another thing that helps when my skin is really very sore, cracked and bleeding  is Lucas' Pawpaw Ointment. I love this cream, we have used it for years for all kinds of sores and baby bottoms when they were small, but it is a bit too rich and greasy to use on face on daily basis.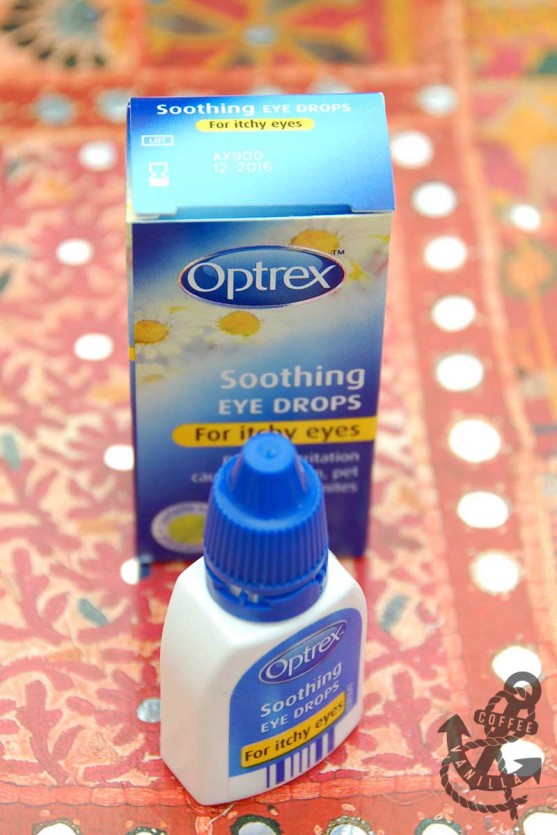 Optrex Soothing Eye Drops for Itchy Eyes used to work for me to to relieve itching a bit, I still use it from time to time but  recently I went to the new doctor who gave me no-name Sodium Cromoglicate 2% w/v antihistamine drops that worked miracle for me (available over the counter from many brands, Optrex as well). After applying those drops 3  times a day I don't wake up with swollen eyes again and thanks to Manuka honey cream my skin got much better as well. I still do take antihistamine pills every morning (Cetirizine Hydrochloride pills, like Hay Fever & Allergy Relief from Boots, seems to  work best for me).
I haven't got definite answer yet to what causes my mysterious allergy but I will be getting some allergy tests done shortly and will update this post with the results, in meantime thanks to the pills, drops and creams I can keep it under control at least a bit…
UPDATE – 27th February 2014
I have discovered Medela PureLan 100 – a  nipple cream that helped to treat my dry skin almost completely. At first I was a bit skeptic and to be honest I did not feel comfortable using it, knowing that it is made purely out of lanolin – wool wax (100%, nothing added) and was designed for nipples. It is said to be scent free but it does have a scent (of wool). It is also very sticky, to this extend that you have to take a little bit of it on your finger and dab rather than spread… but it helps, much more than any other cream I used. I still do use Manuka Honey cream when I have to wear make up but at home I use the  nipple cream around my eyes (!)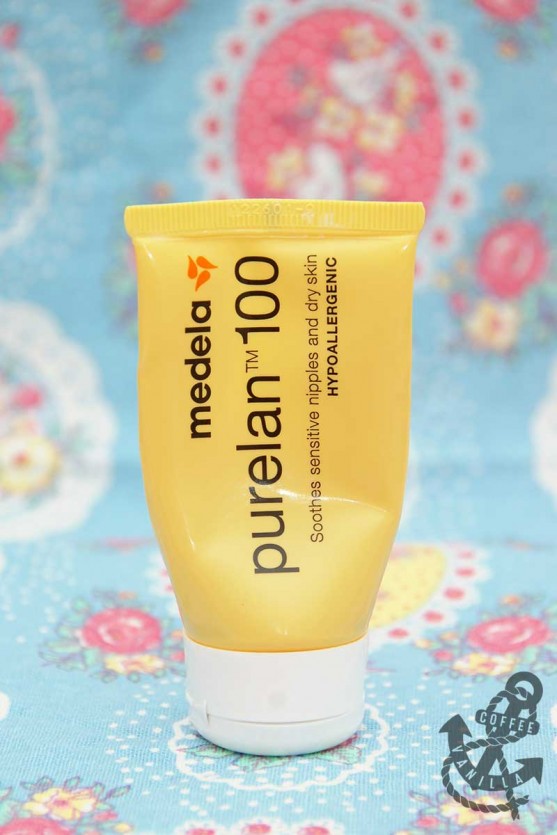 I find also that Benadryl Allergy Relief with Acrivastine works better for me than other allergy pills I tried so far and it does not make me light headed / dizzy. It can be taken up to 3 times a day when needed and it takes about 20 minutes for the itching to calm down.
UPDATE – 24th of March 2014
My symptoms got suddenly worse, the allergy has spread all over my neck, face and arms and is extremely itchy. My eyes are better but the rest of the face and body is 10 times worse than ever – I have over 50 smaller or bigger itchy patches like this on my skin. I suspect that the watery eyes (that have stopped with the end of autumn) and the dry patches are two different things…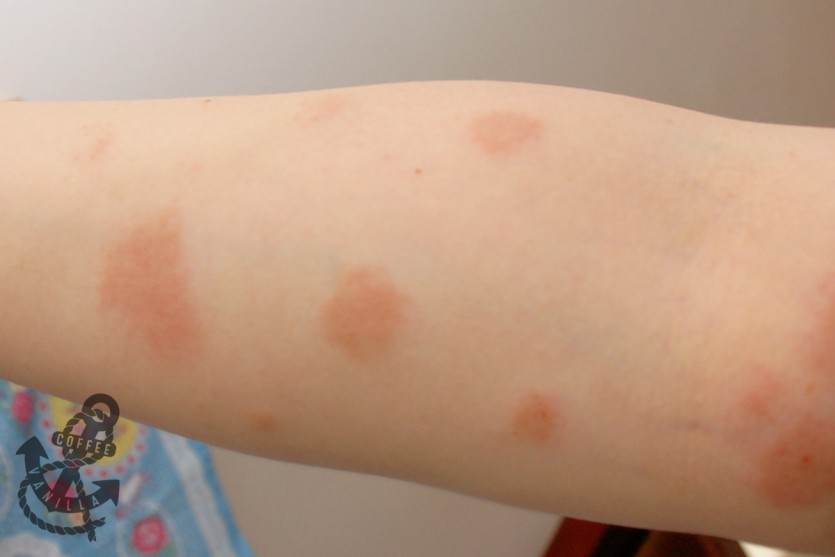 It has been brought to my attention by one of the readers (thank you Stephanie!!) that it may be Methylisothiazolinone (MI or MIT) – harsh preservative and biocide found in many, mostly liquid household / cosmetics products and I'm afraid it might be true. I found this chemical in my soap (Inecto Coconut & Vanilla Shower Crème), liquid laundry detergent (Daz), gel laundry detergent (Fairy), dish washing liquid (Fairy again), fabric softener (Lenor), handwash (Balys & Harding), hair mousse (Asda's Professional Formula) baby shampoo (Asda's Little Angels) and baby wipes (Huggies) so far… searching for more. It looks like I need to put all of those in the bin and replace them with natural products to see if it will help. But looking at this Facebook page dedicated to Allergy to Isothiazolinone, Methylisothiazolinone and Chloroisothiazolinone and reading this CNN article, this one and this article from Daily Mail I'm almost certain this is it!
UPDATE – 28th of March 2014
Washing all my clothes and anything I can find to remove any traces of Methylisothiazolinone…
UPDATE – 5th of July 2016
Some time ago I have discovered Doublebase gel – except for the Dr Organic Manuka Honey face cream, the Doublebase is the only cream I use at the moment. The range come in different tube / bottle sizes and include also body wash but I haven't tried it yet. Pictured below is sample tube I got from the doctor. After that I got huge 500 g package with a pump of the same cream.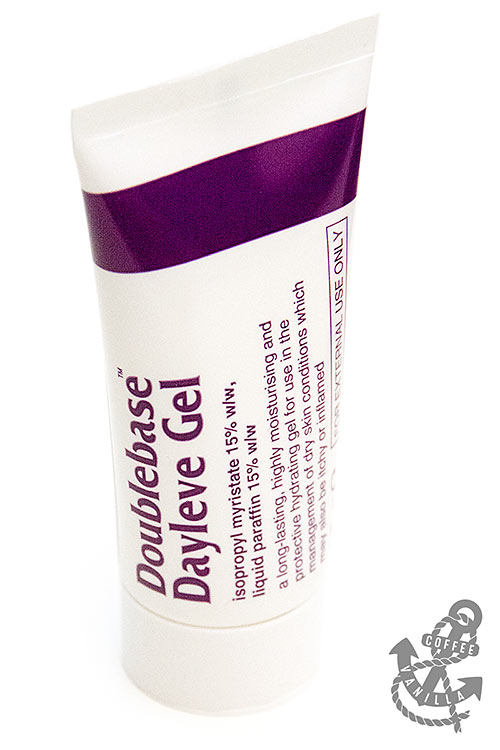 You can find here updated list of products that contain MIT as well as MIT free products.
Products that help me
Sodium Cromoglicate 2% w/v antihistamine drops (two drops per eye, 3 times a day)
Hay fever and allergy antihistamine pills with Cetirizine Hydrochloride (one every morning)
Benadryl Allergy Relief with Acrivastine
Dr. Organic's Manuka Honey Rescue Cream on cracked, dry skin (few times a day)
Lucas' Pawpaw Ointment (on sore, bleeding skin)
Optrex Soothing Eye Drops (when needed)
Dr. Organic's Organic Virgin Coconut Oil Monoi Moisture Melt Body Oil (good for skin, hair & nails and smells divine, too)
pure, food grade oils such as sweet almond oil from KTC (great to remove make up and moisture dry skin)
Hydromol ointment (3 in 1 emollient with no fragrances, colourings, additives or preservatives)
Doublebase gel
Things that make my skin worse
products containing Methylisothiazolinone and Formaldehyde (read more here)
steroid creams (water based ones, lanolin based Hydrocortisone was actually doing some good)
petroleum jelly
hot showers
temperature changes, especially the cold
DISCLOSURE: This post contain some affiliated links. I purchased most of the mentioned products on my own wish except for Medela PureLan cream which I have received as a part of Amazon Vine™ Programme (you can find parts of this article between my other reviews on Amazon website). I was not financially compensated for this post by neither of the named companies. All opinions expressed here are my own.
DISCLAIMER: This article is for information only. Consult a doctor or other health care professional for diagnosis and treatment of medical conditions.