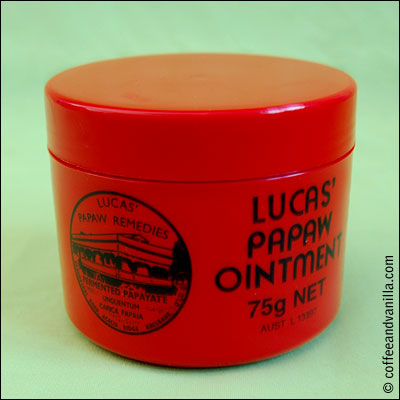 A while back, when my second daughter was born, my lovely friend Nora has sent me baby gift including Lucas' Papaw Ointment – thank You!!! We used it all the time and we loved it so much that when it was finished I searched the whole London… just to finally find it in Australia Shop while visiting Condesa in Covent Garden that is just on opposite side of Maiden Lane.
Lucas's Papaw Ointment (£6.95 – 25g tube / £13.95 – 75g tub) is not only very effective nappy rash cream, it has also much nicer consistency and scent than other baby creams. But there is much more to it, this papaya cream works miracles on all kind of skin problems including gravel rash (when you crash on the bike), cuts, insect bites, burns, eczemas,  dry skin (especially on elbows and heels) or even plain spots thanks to it's antibacterial and antimicrobial properties.
Lucas' Papaw Remedies is a company started by Dr. Thomas Pennington Lucas in Brisbane, Australia where they are still located, family owned and producing ointment  by the team of only 12 people from the same formula that was created 100 years ago: only from fresh fermented papaya fruit and petroleum jelly, free from harsh preservatives such as MIT.
No wonder that this magic cream is so hard to find and sometimes you have to even sign up on a waiting list to get it in previously mentioned London's shop (!)
DISCLOSURE: I purchased Lucas' Papaw Ointment in Australia Shop on my own wish. I was not financially compensated for this post by neither of the named companies. All opinions are my own.