INGREDIENTS
4 cups plain flour
4 cups / 1 l of full fat milk
4 eggs
½ cup oil (I used olive oil)
pinch of salt
¼ cup or a bit less of poppy seeds
EQUIPMENT
27 cm diameter on the top and (25 cm in the base), non-stick frying pan
whisk
spatula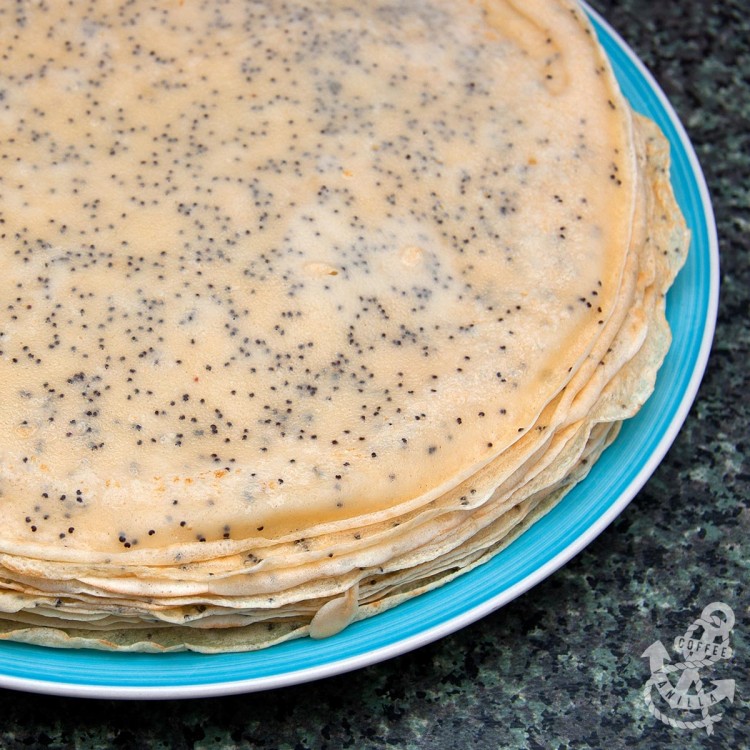 METHOD
Combine all ingredients, except for the poppy seeds, mix well with a whisk.
Leave pancake batter aside to rest for at least 1 hour.
Add poppy seeds and some more milk if the mixture is too thick.
Fry about 100 ml / less than ½ cup of the pancake mixture at the time, on both sides until golden brown.
Makes about 22 – 25 pancakes.
NOTES
Although the frying pan supposed to be non-stick it is safer to brush it with oil (only once) before frying the first pancake, just in case.
Taste great with oranges, Grand Marnier and chocolate in Crêpes Suzette.
Skip the poppy seeds (or not) and make some Polish pancakes with apples & cream.
More Pancake Day recipes and other Fat Tuesday ideas.