This is very simple yet my favourite way of preparing frozen white fish.
INGREDIENTS
500 g frozen white fish fillets
1 large onion (chopped)
couple of garlic cloves (chopped) or some garlic powder
1 lime (cut into wedges) – or small lemon if you don't have lime
2 tbs of butter
2 tbs of olive oil
fresh, dried or frozen dill or some freshly chopped parsley
couple spring onion sprigs (chopped) – optional
red sweet pointed pepper (coarsely diced)
sea salt – to taste
freshly cracked black pepper – to taste
EQUIPMENT
large, non-stick frying pan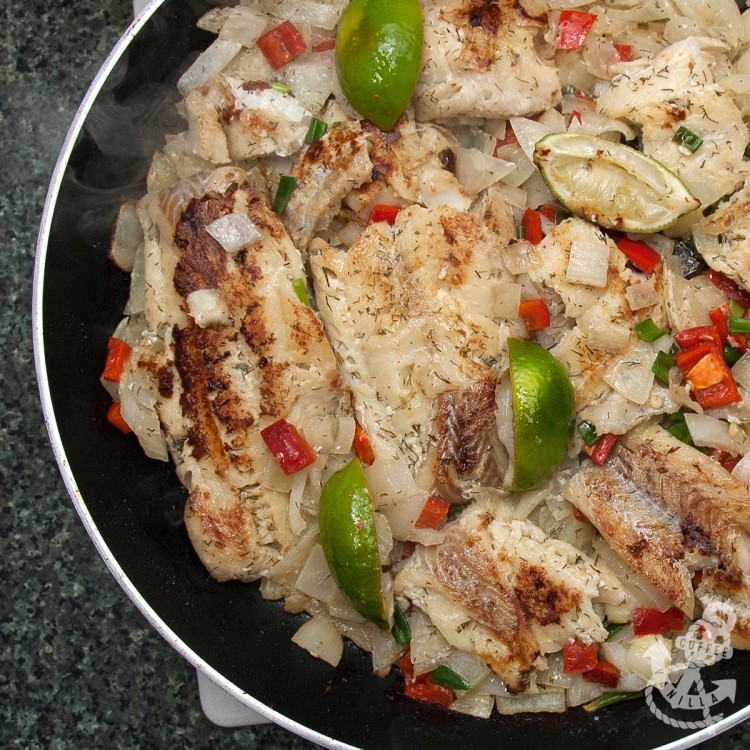 METHOD
Heat butter on frying pan until melted, add also oil and fish.
Top everything with chopped onion, garlic, dill or parsley, red pepper and optionally spring onion.
Squeeze lime wedges over the fish, then add them to the frying pan as well.
Sprinkle with some sea salt.
Fry until all liquid (from defrosting) is gone and fish is starting to turn brown.
Carefully turn each piece of the fish over, only once and fry some more.
Once fish is fried on both sides turn off the fire, season to taste with salt and pepper.
Serve with pasta, couscous, rice or even bread.
Serves 4 – 5 people.
NOTES
Lime can be easily replaced with lemon or skipped all together.
Fresh dill can be replaced with dried dill or some other herb such as parsley, thyme or coriander.
Sweet peppers and spring onions are optional, I often make pan fried white fish with onions alone and it tastes delicious as well.