This is my mother's recipe, simple Polish pancakes served the way I remember it from my childhood with home-made cooked apples from my grandparents' garden and some cream.
INGREDIENTS
20 – 25 plain pancakes (you can follow this pancake recipe, just skip the poppy seeds)
800 g jar of apple purée
a bit of lemon juice and sugar – optional
cup of thick cream
some homemade vanilla sugar or even better cinnamon sugar to sprinkle – optional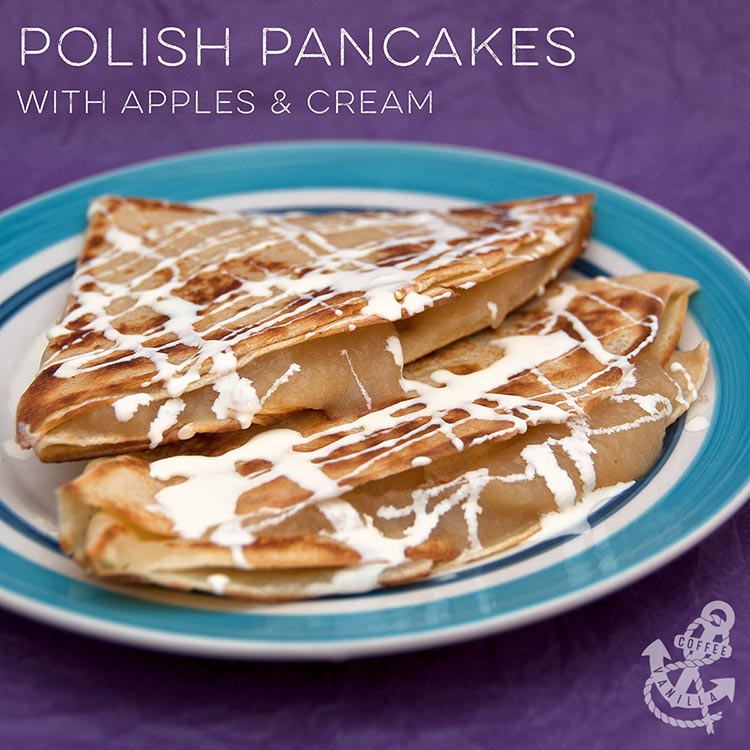 METHOD
Prepare the pancakes in advance or get ready pancakes in the store.
Once ready to serve combine the apple purée with a bit of lemon juice and sugar if necessary (some purées are quite dull in taste).
Fold the pancakes in four and re-fry.
Fill with apples, pour over some cream, sprinkle with vanilla or cinnamon sugar and serve immediately.
Makes 20 – 25 pancakes (allow 2 – 3 per serving).
NOTES
Leftover pancakes and the purée can be stored in the fridge for day or two or even used for lunch.
Pancake Day recipes and other ideas.
More Polish recipes.
I'm adding this recipe to the Inheritance Recipes challenge that we have started together with Solange of Pebble Soup. This month theme is Back to School – those warm pancakes are great for early morning autumn breakfast and they would make delicious after school snack as well. If you haven't done it yet, please come and join us, share your inherited recipes with us!