Pancake Day also know as Shrove Tuesday in Britain, Fat Tuesday or Mardi Gras in French is the last Tuesday before Lent, day before Ash Wednesday.
In 2018 it will be on Tuesday – 13th of February.
It is called Pancake Day because traditionally on this day large amounts of pancakes were prepared to use up all milk, butter and eggs which were forbidden from the following day and during the entire Lent.
It is related to Easter traditions therefore the date of this holiday is changing on yearly basis.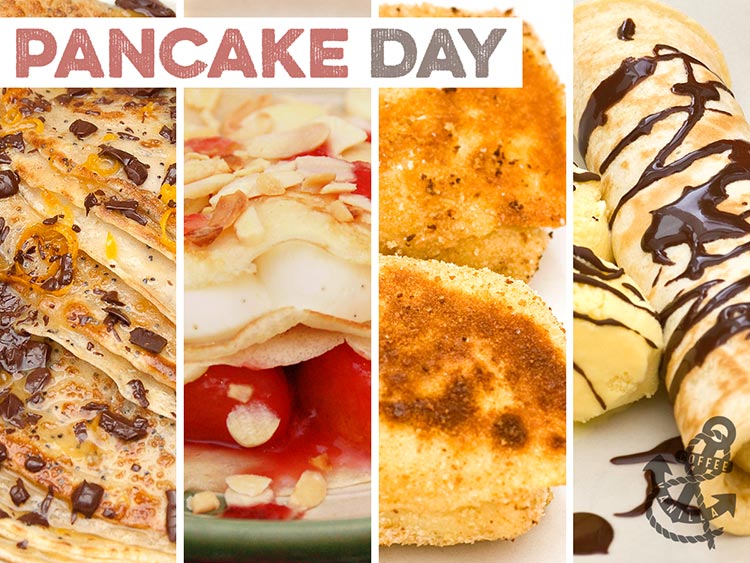 In Poland, Germany and some parts of the USA Fat Thursday (Donut Day), Fetter Donnerstag in German or Tłusty Czwartek in Polish is celebrated on the last Thursday before Lent when "pączki" (doughnuts), "faworki" (fried crispy biscuits) and other rich, often deep fried, foods are consumed. It is followed by Ostatki / Zapusty / Śledzik (Little Herring) when mentioned "śledzik" herring is consumed, on Tuesday before Ash Wednesday.
According to my husband in Dominica Carnival Tuesday is the last day of Carnival when people party, dance  and drink rum ;)
If you haven't had any pancakes today it is still not too late,  here are couple of pancake recipes you may find handy.
Happy Pancake Day Everyone!