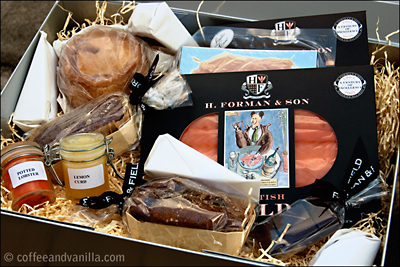 Couple of weeks ago I was lucky to receive one of beautiful luxury hampers from Forman & Field filled with delicatessens, just to mention few: smoked salmon, cheeses, lemon curd, potted lobster, chocolate brownie, chocolates and even banana bread.
Since 2002 Forman & Field delivers to your door fresh, traditional British produce from small, independent producers. They have also their own H. Forman & Son 100 year old smokery where all their smoked salmon and other smoked products are coming from.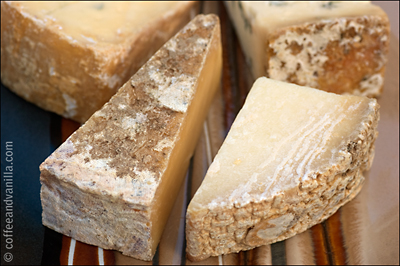 Starting from the top right, Colston Bassett Stilton ( £13.50 / 500g) – delicious aromatic blue cheese with creamy texture and tangy taste.
Ardrahan (£9.95 / 375g)  – soft and rich, a little too pungent  for me but my husband enjoyed it.
Berkswell – hard, fruity sheep's milk cheese was my favourite, available in  this cheese selection (£34.95 / kg) and as a part of some hampers.
Montgomery's Cheddar (£13.95 / 500g) – quite hard cheese, mouth watering, very rich and fruity, one of the best Cheddars I have ever tasted.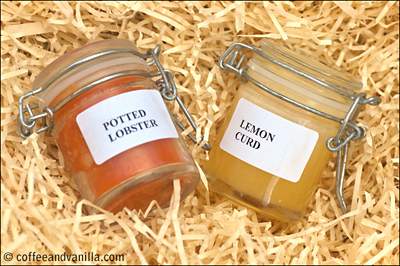 H. Forman & Son Potted Lobster (£14.95 / 225g) – very fresh, buttery, superb, great starter.
Lemon Curd (£4.50 / 225g)  –  smooth, strong but well balanced natural lemon taste, one of the best curds I ever tried, those available in most supermarkets does not even compare to it.
Mrs King's Genuine Melton Mowbray Pork Pie  (£4.95 / 300g or £6.95 / 450g) – gigantic, with lots of jelly and crispy pastry.
Sliced Alderton Ham ( £19.95 / 500g) – perfectly juicy and smokey.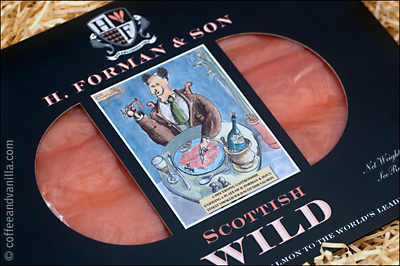 H. Forman & Son's London Cure Smoked Scottish Salmon (£29.95 / 350g) – scrumptiously salty with intense smoky aroma.
H. Forman & Son's Genuine Wild Smoked Scottish Salmon (£69.95 / 350g) – exquisite product with very distinctive deep smoky flavours and  melting in the mouth texture.
Handmade Paul Wayne Gregory Pure Indulgence Chocolates ( £19.96 / box of 12) – absolute delish, especially salted caramel chocolates.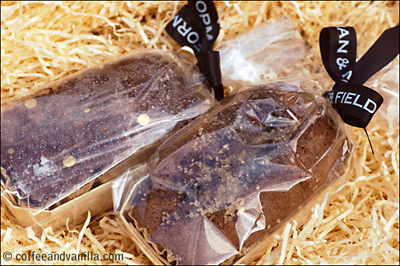 On the right, Banana Bread (£4.95 / 6 portions) – amazing, very fragrant, not too dry or too moist, even my Caribbean husband was impressed with it and that does not happen often.
Luxury Chocolate Brownies (£9.95 / 6 portions) – perfectly crunchy on outside, moist very chocolatey inside, with lots of walnuts, highly recommended. If I was to order anything from Forman & Field company brownies would be one of the first items on the list, just after Berkswell cheese.
With thanks to Forman & Field and Juan from Content Lobby for the  complementary samples.