INGREDIENTS
for the pancakes
3 cups self raising flour or 3 cups plain flour + 1 tbs baking powder
3½ cups milk or a little bit more if pancake mixture is too thick
½ cup oil (I used hazelnut oil)
4 eggs
for the cream cheese filling
500 g plain cream cheese
½ cup icing sugar
2 tbs lemon juice
4 egg yolks
for baking
400 g tin / 1 cup of evaporated milk
3 – 4 tbs icing sugar
zest of 2 oranges
for the orange sauce
juice of 2 oranges
25 g unsalted butter
3 more oranges to serve (sliced, peel cut off)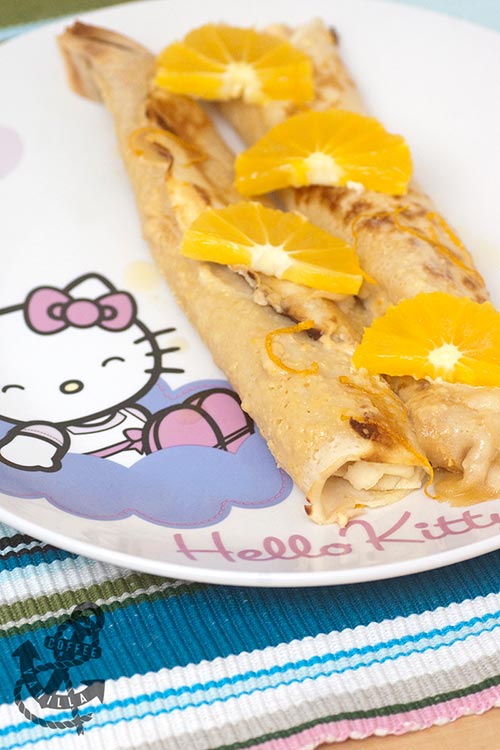 EQUIPMENT
non-stick frying pan
spatula to turn the pancake
ladle
whisk
large and small mixing bowl
deeper baking tray or dish
small pot to make sauce
METHOD
In a large bowl mix all ingredients for pancakes, pour 125 ml / ½ cup pancake mixture on hot non-stick frying pan and swirl the  pan until pancake mixture cover the whole bottom evenly, fry them on both sides without any extra oil. Continue until all pancakes are done.
In meantime prepare feeling combining in a small mixing bowl cream cheese, lemon juice and sugar. Leave aside.
Combine also evaporated milk with sugar.
Once all pancakes are ready top each with a little bit of filling and spread evenly, roll pancake and place all of them in the baking dish.
Pour over evaporated milk and sprinkle with orange zest.
Bake in the oven preheated to 180°C (356°F) for about 15 minutes.
In the last moment prepare the sauce: squeeze the juice out of 2 previously "zested" oranges, reduce liquid in a small pot together with butter until it has right consistence.
When pancakes are baked share them to the plates and drizzle with some orange sauce.
Serve with some fresh sliced oranges.
Makes about 15 pancakes, allow 2 – 3 per serving.
NOTES
Just to be on a safe side brush frying pan with little bit of oil before starting to fry, just this one time.
With thanks to Jeanne from Cooksister for Morrisons pancake making utensils, I'm still using them (!)
More pancake ideas: Pancakes with Cinnamon & Sugar by Michelle from Greedy Gourmet, Mexican Chocolate & Hazelnut Crepe Stack by Jeanne from Cooksister, Apple, Cinnamon & Chocolate Toffee Pancakes by David Hall.