This is very simple yet crucial accompaniment to any old fashioned Polish party.
Traditionally "śledzik" is served on the the last day of carnival (Fat Tuesday) but also on Christmas Eve, New Year's parties, weddings, birthdays, christenings… and any other occasion, especially when high percentage alcohol, such as vodka, is involved.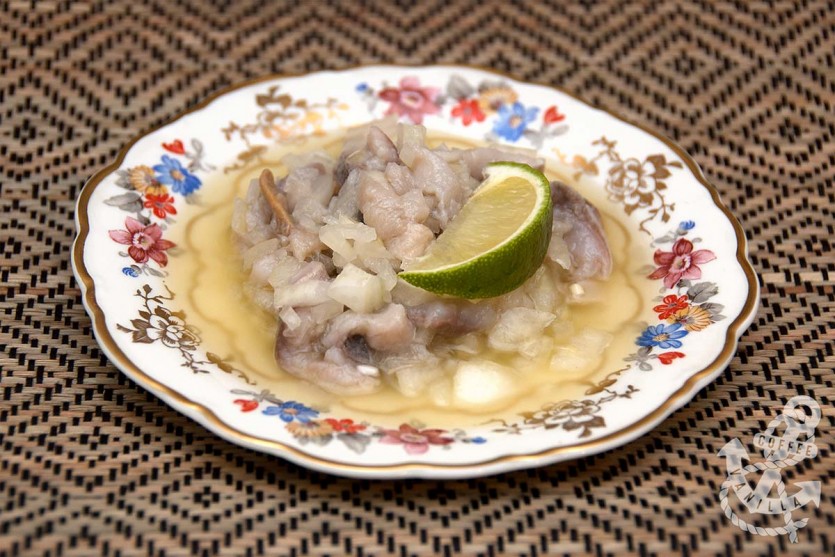 INGREDIENTS
salted herring fillets (chopped)
onion (diced)
olive oil
lemon / lime (wedges) – to serve
METHOD
Chop the herring.
Dice the onion.
Combine them with generous amount of olive oil and leave aside in the fridge for at least 30 minutes.
Garnish with lemon or lime.
Serve with fresh, best rye, bread and enjoy!
We won't be having any vodka on the New Year's Eve, maybe some mulled wine… but we will definitely prepare the herring along other snacks (vegetable chips, samosas, pacoras) to indulge ourselves while waiting for the midnight.
Happy New Year 2015 Everyone!
NOTES
Have in mind that Polish pickled herring (śledź w occie) is not the same as salted herring (śledź solony).
But if you get a chance to get Polish salted herring with spices (śledzie korzenne) do not panic, it's pretty good for this recipe as well, or better. The strong flavour of spices makes them even more delicious and they go really well with the onion and olive oil.
Looking for more salted herring ideas? Then check out this recipe for Salt Herring Salad from The Taste of Shetland.
I'm submitting this to May Inheritance Recipes hosted by myself and Solange of Pebble Soup.