INGREDIENTS
2 x 270 g packages of chilled filo pastry (6 sheets each)
2 large onions (diced)
oil or butter for frying
1½ kg potatoes
½ kg peas (I used frozen)
½ kg fresh carrots (cubed)
1 tbs ginger paste
1 tbs garlic paste or some garlic powder / about ½ tbs
½ tbs ground cumin seeds
½ tbs ground coriander seeds
1 tbs garam masala
salt to taste
some chilli powder or hot sauce to taste – optional
small bunch of coriander (chopped)
whole egg (lightly whisked)
½ cup of olive oil for brushing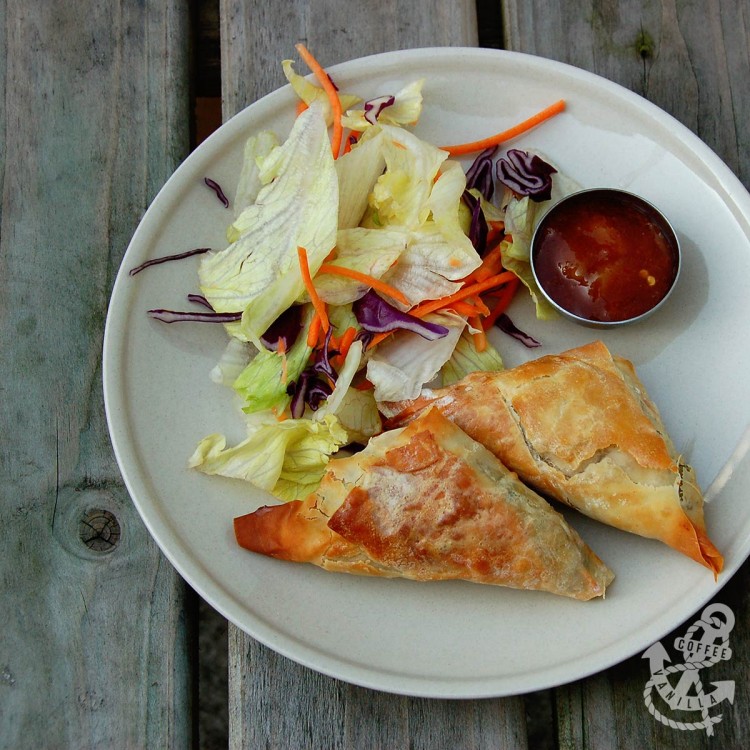 EQUIPMENT
3 baking tray lined with baking paper
2 silicone pastry brushes
METHOD
Boil potatoes and mash them, leave aside.
In meantime fry on butter or oil onions, once they are browned stir in spices: garlic, ginger, garam masala, coriander seeds, cumin seeds and fry some more. Transfer to the pot with mashed potatoes.
On the same frying pan stir fry peas only until defrosted and cooked through. Add them to the pot with potatoes as well.
Do the same with carrots.
Season potato mixture with salt, chilli if used and freshly chopped coriander.
Preheat oven to 180°C (356°F).
Take out one package of the filo pastry from the fridge, spread on the table and cut lenghtwise into 3 long strips, through all 6 layers.
Place heaped tbs of potato filling on the corner of each strip and fold, stick the end with egg.
Place on the baking tray, brush with olive oil.
Do the same with the rest of the filling and filo pastry.
Once all samosas are ready place them in the oven and bake for couple of minutes turning and brushing with olive oil again in meantime.
Serve as a snack on their own or as a light meal with some chutney (ours was chilli & mango) and green salad on a side.
Makes 36 medium samosas.
NOTES
Samosas taste even better next day reheated on frying pan with a bit of real butter.
If you can't find ginger and garlic paste you can use fresh or powdered ones and a bit of lemon juice.
Chutney can be replaced with tomato or banana ketchup and kids will love it.
Leftover filling can be used next day to make some bubble & squeak.