INGREDIENTS
for the steamed dough / choux dough
160 g vegetable shortening (I used Kasia)
2 cups plain flour
2 cups of boiling water
1 tbs baking powder
½ cup potato flour
½ tsp of salt
1 tbs of golden caster sugar
8 whole eggs
for filling
for topping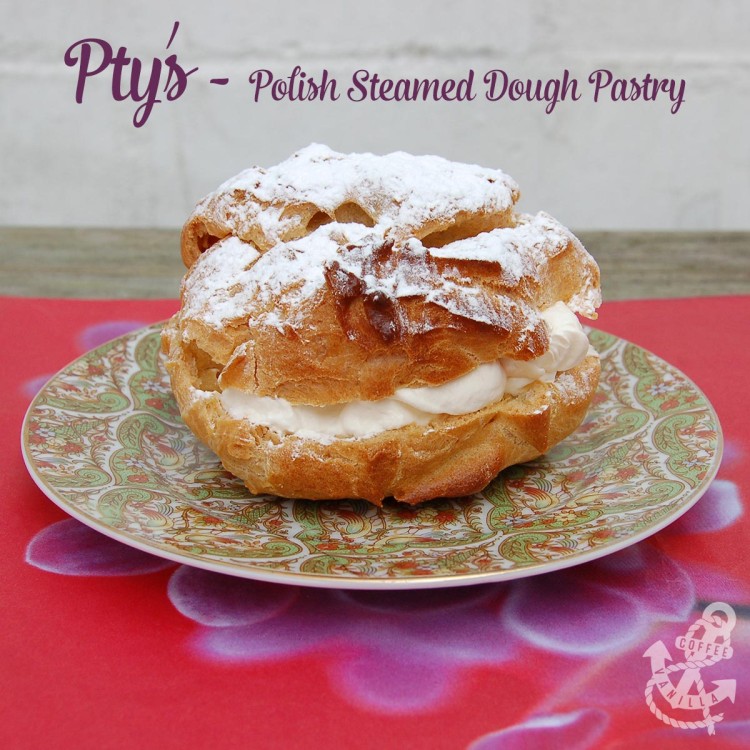 EQUIPMENT
wooden spoon
medium pot (to cook/steam the dough)
mixing bowl
two large baking trays lined with baking paper
hand mixer or potato masher
electric whisk for the cream
wooden skewer to test the dough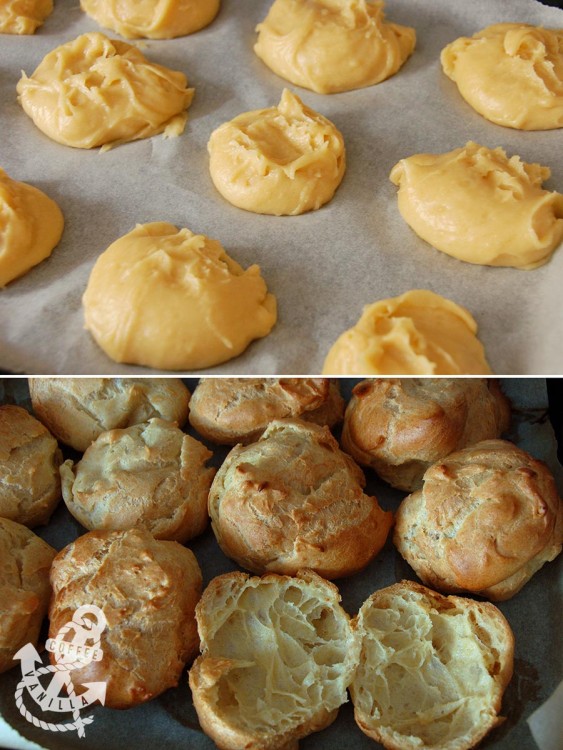 METHOD
Heat water in a medium pot together with vegetable shortening, until all melted.
In meantime combine flours, sugar, baking powder and salt.
Quickly stir flours into the pot with water, heat and mix with wooden spoon to create springy ball of dough.
Remove from fire, transfer dough to the mixing bowl.
Using hand mixer (or potato masher) combine dough with eggs adding them gradually.
Continue mixing until the dough is very smooth.
With a tablespoon place heaped spoonfuls of dough on the baking trays, there should be about 20 portions, 10 on each tray.
Bake in the oven preheated to 180°C (356°F) for about 35-45 minutes until golden brow, hard on the outside and not too sticky on inside, check with the skewer.
Remove from the oven and quickly cut each of the pastries in half with a very sharp knife to let the steam escape.
Place back on the tray and back in the oven for 1 minute longer, just to dry it out.
While the pastries are cooling down whip the cream with sugar and vanilla extract.
Fill each pastry with the cream, top with icing sugar.
Enjoy with some black coffee or unsweetened tea.
Makes about 20 medium ptysie.

NOTES
Make sure the oven is hot enough, if you are not sure better turn up the temperature a little bit or the pastries can collapse.
Store in the fridge until ready to serve, even for half a day.
Ptyś / ptysie (in plural) name came from French petit choux meaning small cabbage, although it does not look similar in written form when pronounced in Polish sounds quite similar.
More steamed dough recipes: Vienna Doughnuts / Pączki Wiedeńskie and Gorszek Ptysiowy / Pea Puffs.