INGREDIENTS
400 g plain flour
8 egg yolks (I bit more if eggs are small)
3 tbs icing sugar
2 pinches of fine salt
2 tbs butter
6 tbs soured cream
2 tbs vinegar (I used white wine vinegar)
icing sugar for sprinkling
fine vanilla sugar for sprinkling – optional
1 litre of vegetable oil for frying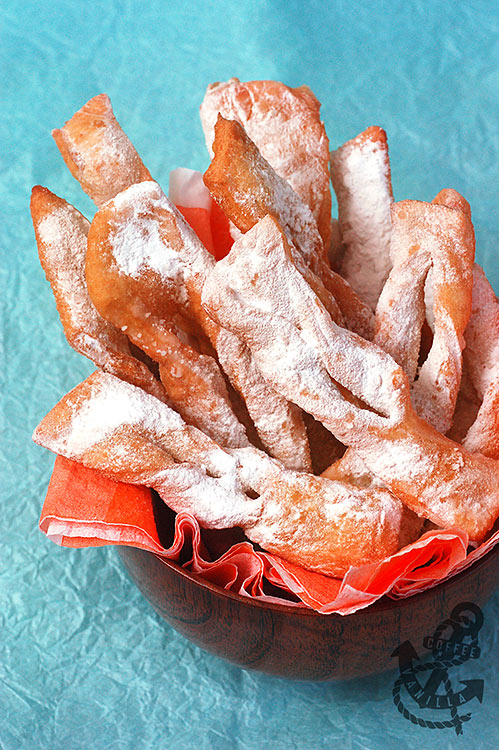 EQUIPMENT
large mixing bowl
rolling pin
round wooden meat beater – optional
wide pot for deep frying
tongs
paper kitchen towels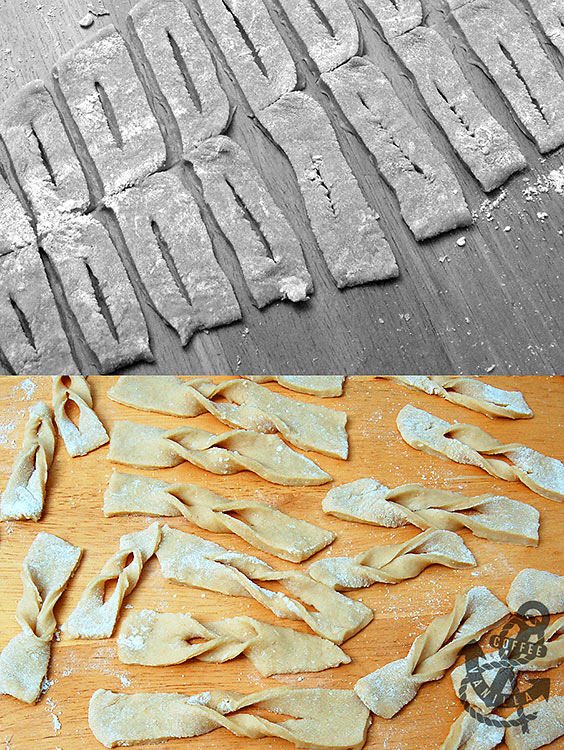 METHOD
Combine flour,  egg yolks, 3 tbs icing sugar, salt, butter, soured cream and vinegar in a mixing bowl.
Knead the dough until well combined and not too sticky.
Beat the dough with rolling pin or round wooden meat beater, folding several times when it will get flat. Continue like this for about 15 minutes, it will create air pockets.
Cover with cloth and place in the fridge for about 1 hour.
Remove from the fridge and roll out piece of the dough on floured surface until very thin.
Cut with a knife into rectangular shapes, making cut in the middle of each of them.
Pass one of its sides through the slits and pull it through to make a shapes of a twisted ribbons like on the above image.
Place in the pot with hot oil and fry on both sides until golden.
Move to the plate lined with lots of kitchen towel, sprinkle with icing sugar while still hot.
Enjoy!
NOTES
Add a bit more cream if the dough is too dry or a bit more flour if it too sticky.
If you cut shorter sides of the rectangles a bit across faworki will have nice, pointy ends.
Pączki and faworki are the most common treats served during Tłusty Czwartek (Fat Thursday / Donut Day) parties that are equivalent of UK's Pancake Day.