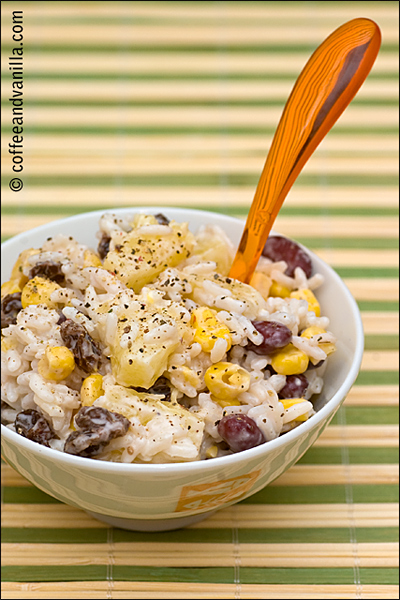 INGREDIENTS
2 cups (uncooked) easy cook rice
4 cups of cold water to cook the rice
400g tin of pineapple (drained, chopped)
400g tin of sweet corn (drained)
400g tin of red kidney beans (drained)
½ cup of raisins
1 cup boiling water to rehydrate the raisins
2-3 pieces of fried chicken breast (diced) – optional
3-4 tbs mayonnaise
3-4 tbs soured cream or natural yogurt
sea salt to taste
lots of freshly ground black or rainbow peppercorns
EQUIPMENT
strainer
METHOD
Place rice and cold water in pot with lid, cook covered until ready. Then uncover and let the rice cool down.
In meantime fry diced chicken breast if used. Rehydrate also raisins placing them in a cup of hot water for couple of minutes, then drain through the strainer and leave aside.
In a salad bowl combine rice, raisins, corn, pineapple, beans, mayonnaise, soured cream and optionally chicken. Season to taste with salt and pepper.
Serve at room temperature or cooled down.
Taste good itself or as a side dish with chicken, if already not included in the salad.
Make about 4 large servings.