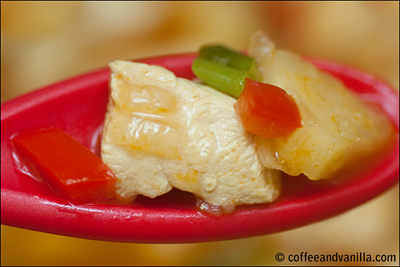 INGREDIENTS
600g chicken breast (diced)
2 tbs oil or butter for frying
1 large onion diced
3 cups of boiling water
3 curry cubes – about 70g each (I used Oxo Indian Curry cubes)
1 tps garlic powder
1 red bell pepper, red one (diced)
4-6 spring onions (chopped)
400g tin of cubed pineapple (drained)
few tbs thick cream or coconut cream – optional
sea salt to taste – optional
4 small naan breads (re-heated in the oven) – to to serve
cooked rice – to serve
METHOD
Sweat the onion on butter, add chicken and fry until golden.
Add water, garlic, cubes and cook covered until chicken is very soft.
Stir in spring onion and pepper and cook for a minute longer.
Add pineapple, season to taste with salt and cream.
Serve with cooked rice and freshly re-heated naan bread.
Serve 4 people.
Looking for more chicken recipes:
Greedy Gourmet prepared chicken breast with green peppercorn sauce.