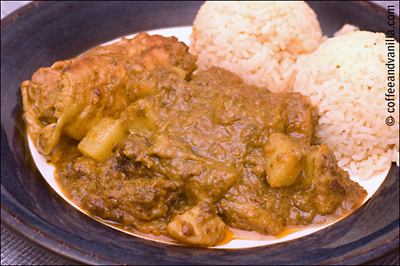 INGREDIENTS
6-8 chicken pieces (legs, thighs or breast) or large package of chicken wings
1½ portion of homemade curry paste (click link for the recipe)
boiling water to cook chicken
some more boiling water to cook potatoes
4 small (4g each) vegetable Maggi cubes
¾ cup coconut milk powder or ½ creamed coconut bar
500g young potatoes (cubed)
large ripe mango (cubed) to serve – optional
METHOD
Place chicken, Maggi cubes, curry paste and enough boiling water to cover the chicken, in a pot.
Cover and cook till chicken is soft. Add potatoes, coconut milk powder or bar and some more water if needed.
Continue cooking covered until potatoes are soft… remove cover and cook some more if gravy is too watery.
Serve with cooked rice or even better with "Naan Bread with Garlic & Coriander", "Roti Wraps", "Plain Roti Wraps", "Dhal Puri Rotis" or ready chapatti wraps and cubed mango on a side.
Serve 3-4 people.
NOTES
Use more coconut milk or creamed coconut for richer coconut taste.
You can skip coconut milk and serve on each plate generous spoon of thick cream or mascarpone cheese.