First of all forgive me the image quality, most of photos were taken with the phone as it was very busy day. I've been multitasking being at the same time in two places at the same time: in the fields near our flat where girls were riding their bikes and back in our kitchen cooling down the ganache and assembling the cake. It was my younger one's birthday and she requested new bike and a day out instead of the party… and then the hedgehog cake with chocolate sticks for dessert.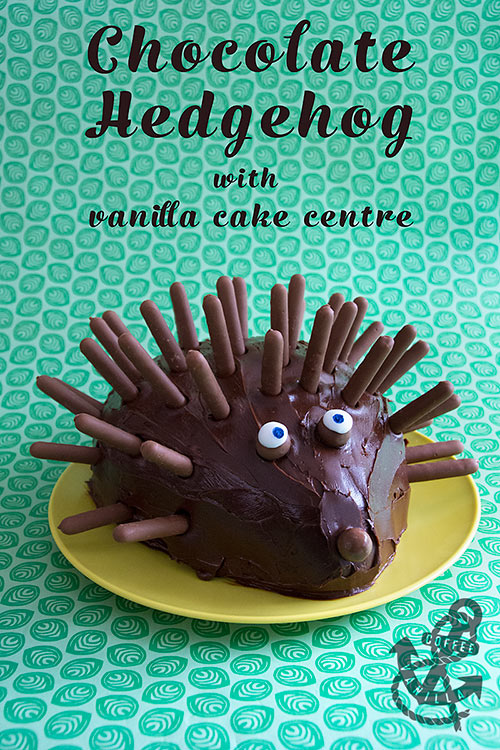 INGREDIENTS
vanilla cake
2½ cups plain flour
125 g / half a bar butter (melted)
1½ cups golden caster sugar
3 large – 4 smaller eggs
1 cup of milk
1 tbs baking powder
2 tbs vanilla extract or seeds from 1 vanilla pod
chocolate ganache
300 ml extra thick double cream
300 g quality dark chocolate (broken into pieces)
decorations
2 boxes of chocolate covered shortbread fingers / about 140 g each (we used Cadbury fingers)
mini bag of Maltesers or other round chocolate candies (you need only 3 of them)
2 small pieces of white fondant icing (to cover part of the Maltesers for the eyes) – optional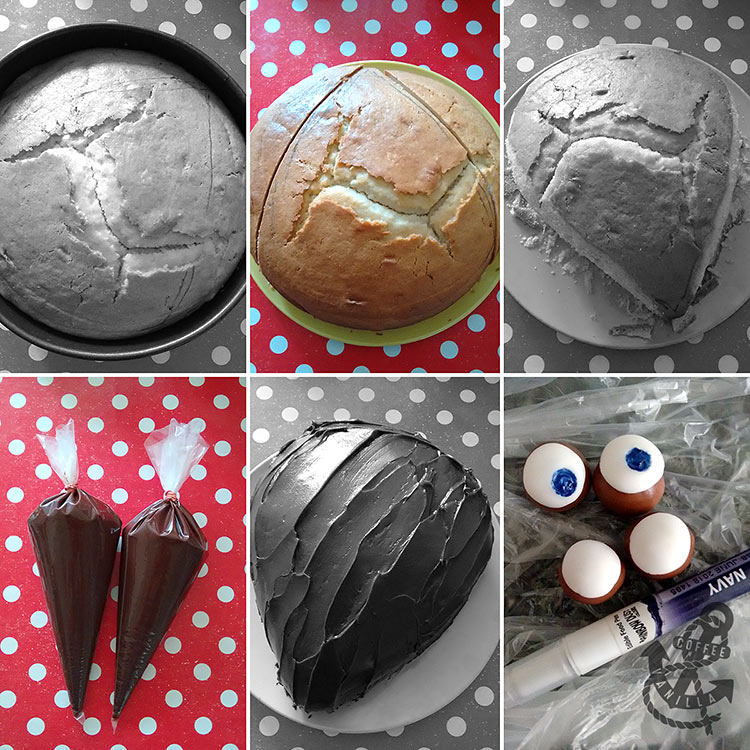 EQUIPMENT
silicone pastry brush
round baking tray with removable base lined with baking paper
sharp knife (I used filleting knife)
blue or green food colouring pen – optional (you can skip this part and use different colour of icing instead of drawing the pupils)
piping bags – optional (you can easily spread the ganache without the bags)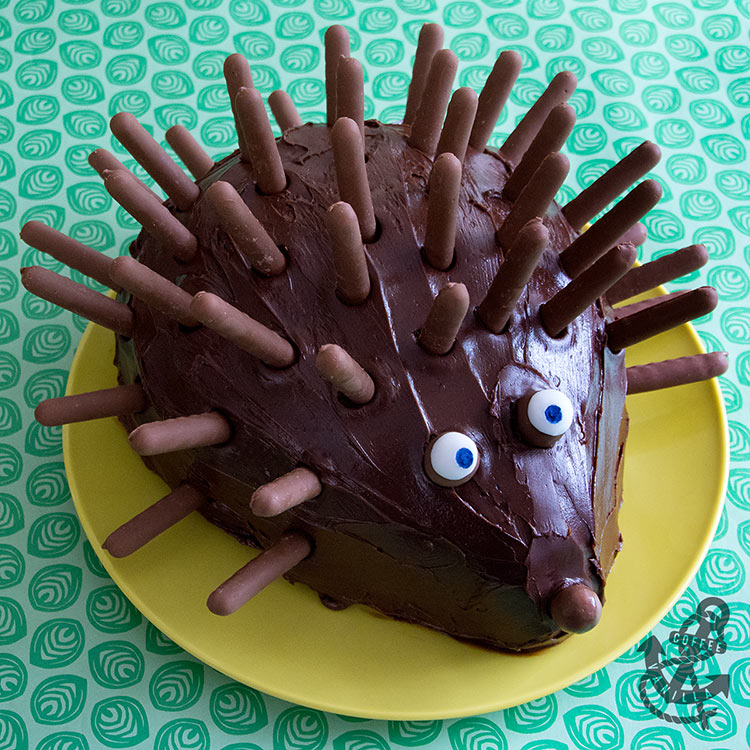 METHOD
Place butter bar in a jug and microwave for about 50 seconds or until completely melted.
Use pastry brush to grease baking tin with a bit of melted butter.
In a mixer bowl combine all dry ingredients: flour, vanilla seeds (if using), sugar and baking powder.
Add also milk and eggs and turn the mixer on.
Gradually pour in melted butter and mix a while longer.
Transfer the batter into the tin and bake in the the oven preheated to 180°C  (356°F) for about an hour.
Let the cake to cool down completely before trimming it to the hedgehog cake.
In meantime prepare ganache: heat cream in a small saucepan continuously stirring and adding chocolate pieces.
Once the ganache is ready put it in the fridge to set.
To assemble the cake cover the entire cake in the ganache, either by piping it from the bags or simply spreading with knife or spatula.
Finish off by adding eyes, nose and spikes.
Place in a fridge for at least 30 minutes before sharing.
Makes about 12 – 16 servings.
TIPS
Do not discard trimmed cake pieces, as this is cake for kids, use leftovers to make boozy dessert for adults.
If you don't have icing or edible pen, forget the Maltesers, use Smarties instead.
Leftover vanilla pod can be used to make homemade vanilla sugar.
NOTES
If you are looking for more animal shaped cakes, take a look at our  Zebra Cake recipe.
For other autumn (& winter) themed bakes visit our Chocolate & Orange Yule Log or Choclette's Almond Apple Cider Cake.
If you are fan of hedgehogs, why not try our Cheese & Fruit Hedgehog, have a go at making clay hedgehog dish or make needle felted hedgehog.