This recipe is based on Foolproof Banana & Nut Bread we have been making for years but I due lack of walnuts and dark brown sugar I was forced to change the recipe a bit and it turned out very well – lighter, less nutty but so fragrant (!)
I think it is the best banana bread we made so far, the whole family loved it, including the youngest one who is usually very picky.
When I was baking last night our house was filled with divine scent of spices and it was really hard to resist temptation of tasting it while still hot but I managed to save them all intact till morning so my older daughter could choose one of the loaves to take with her on the coach… she went to visit her aunty in Scotland.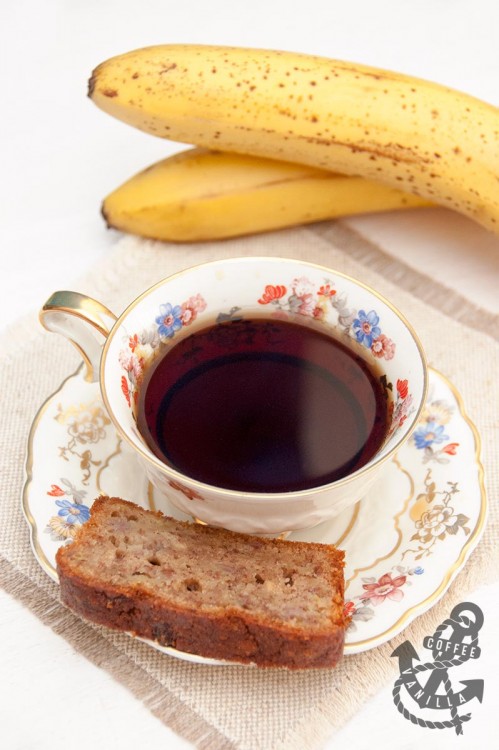 INGREDIENTS
5  large, ripe or even overripe, browned bananas (mashed roughly)
3 cups plain flour
200 g unsalted butter (melted)
1 cup of golden caster sugar
1 cup of ground almonds (almond flour)
4 eggs (lightly beaten)
1 tbs of baking powder
½ tsp baking soda
3 tbs of homemade vanilla sugar
2 tsp ground cinnamon
½ tsp freshly ground nutmeg
oil for brushing (we used rapeseed oil)
EQUIPMENT
2 mixing bowls
2 – 3 bread loaf tins (we used two regular size and one a bit smaller)
silicone pastry brush
baking paper
fork or potato masher to mash the bananas
METHOD
Melt butter and leave aside to cool down.
Line baking tins with paper and brush with oil.
Preheat oven to 160°C (320°F).
In larger bowl roughly mash the bananas, add also butter.
In smaller one mix all dry ingredients and spices together and gradually add to the bowl with bananas and butter.
Add also eggs and stir once more time.
Share bread mixture to the baking tins.
Bake for about an hour or until wooden skewer is coming out clean when placed in the bread.
Leave to cool down and set aside for at least couple of hours before serving for the flavours to develop.
Makes about 16 – 20 servings.
NOTES
If I had more almond flour I would try to use 2:2 proportions with the regular flour instead of 3:1, I will try adding more next time.
If you are looking for more banana recipes, check out Kavey's Gooey Delicious Banana Cake, Camilla's Spelt Banana Bread, Coconut Banana Cake with Walnuts & Orange Juice, Banoffee Pie – Banana & Toffee No Bake Cake, Banana Pancakes with Chocolate Sauce and Vanilla Ice Cream or Banana & Date Ice Cream Cake we made.
Or try those bite size banana treats: Jeanne's Banana choc-chip muffins – the Muffins of Evil and ours Banana Chocolate Chip Muffins.
I'm submitting this banana bread to the Recipe of the Week link-up by Emily of A Mummy Too blog.