This is extremely quick and easy recipe that will make great midweek dinner or lunch.
We served the soup with some Polish egg dumplings inside but it would taste good with some crunchy bread on a side instead.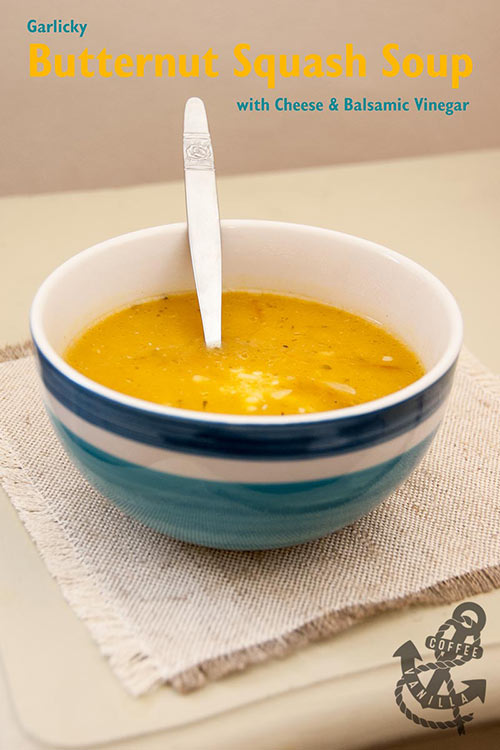 INGREDIENTS
medium butternut squash / about 1300 g (peeled, de-seeded, cubed)
1 whole garlic head (cloves peeled)
1 tsp dried thyme
1 tsp dried oregano
2 large vegetable cubes (10 g each)
sea salt to taste
2 litres / 8 cups boiling water
black peppercorns –  to serve
balsamic vinegar – to serve
grated cheese (we used mature Cheddar) – to serve 
crunchy bread or Polish egg dumplings – to serve
EQUIPMENT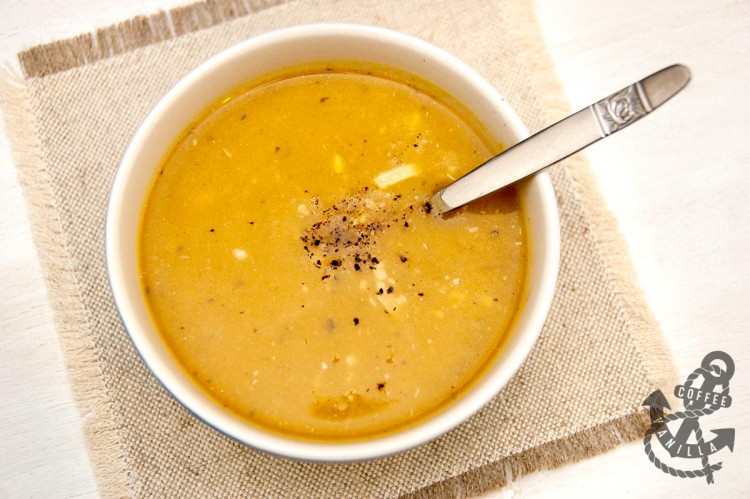 METHOD
Place butternut squash, garlic, water, cubes and spices in a pot and cook over medium fire until butternut squash is soft.
Blend, season to taste with salt and share to the plates.
Top with a bit of grated cheese, freshly ground pepper corns and dash of balsamic vinegar.
Serve with the dumplings or some crunchy bread on a side.
Makes 8 portions of soup. 
NOTES
Cheese can be replaced with cream or skipped altogether.
If you have time you can roast butternut squash before adding it to the soup for extra yumminess.
If you are looking for more balsamic vinegar recipes, check out Dannii's Balsamic Roasted Ratatouille Spaghetti, Kellie's Balsamic Roasted Figs, Kate's Balsamic Peach & Ricotta Tarts, Choclette's Honeyed Fig & Goats Cheese Tarts with Walnuts & Chocolate Balsamic Sauce, Balsamic Strawberries with Honey and Basil, Roasted Carrots and Beets in Balsamic Maple Syrup or Green Pea Soup with Parmesan and Balsamic Vinegar we made.
I'm submitting this recipe to Jacqueline's Meat Free Mondays.