Summer is one of my favourite times of the year, I adore hot sunny weather, eating on fresh air and days out.
Below you can find couple of eating alfresco goodies, travel essentials and kids' construction toys for long Summer evenings.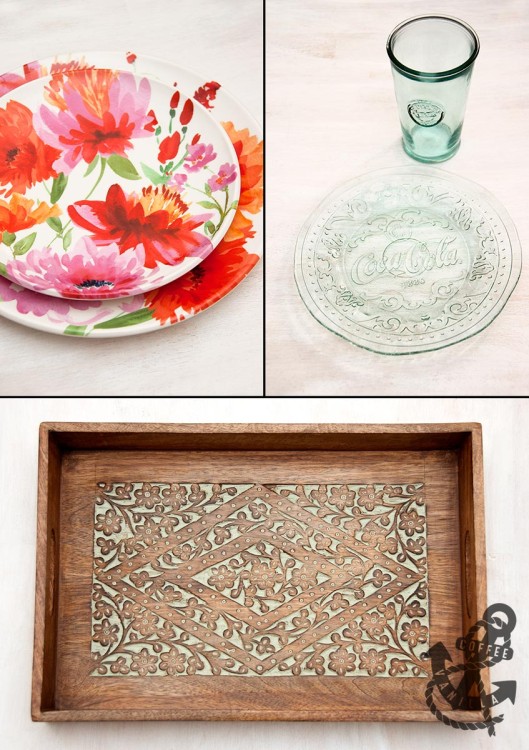 In HomeSense you will find everything you need for alfresco entertaining and lazy Summer barbecues.
Here is what I have picked for myself: recycled glass plate (£2.49), recycled glass tumbler (£1.99), melamine small floral plate (£3.49), melamine big floral plate (£3.99) and beautiful wooden tray from India (£12.99).
You can see them already in action here and here.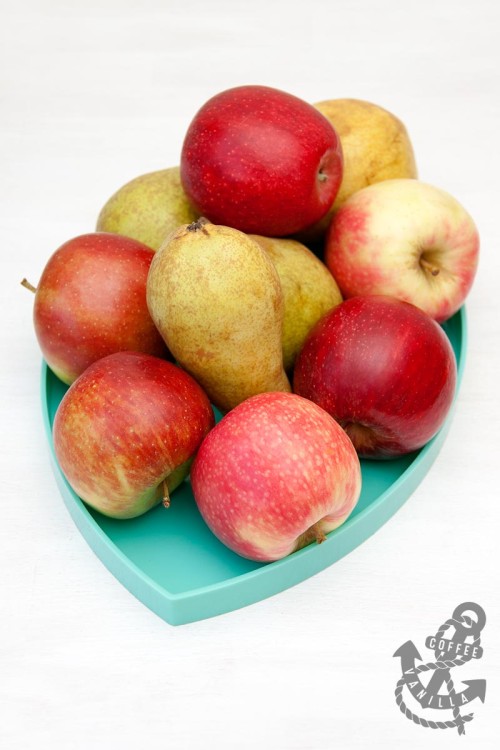 Nothing tastes better on hot summer days than refreshing, juicy fruits.
I was again surprised with delicious delivery from SA fruits including Pink Lady, Gala and Braeburn apples and Comice pears.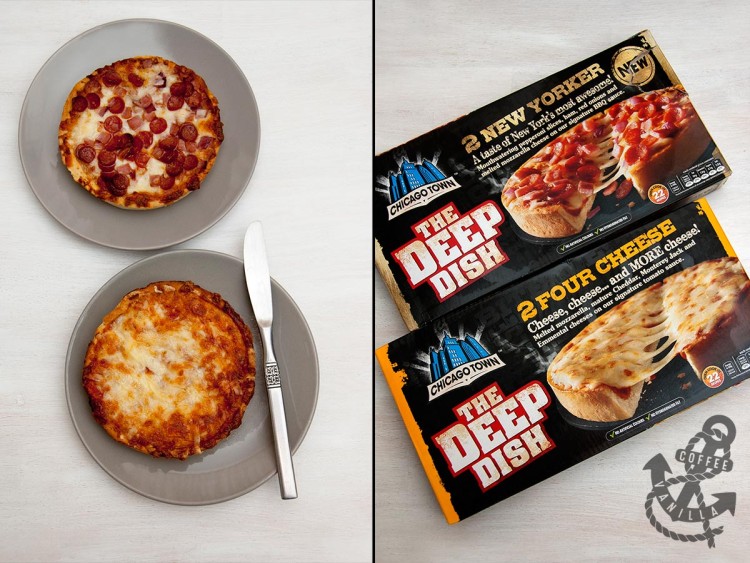 What can be easier than a single serving pizzas during garden parties and lazy Summer weekends?
Those Chicago Town Deep Dish pizzas come in Pulled Pork, Pepperoni, New Yorker, Ham & Pineapple, Four Cheese or Chicken Club varieties (RRP £2.19 per pack of two 155 g pizzas)  and are just perfect for this.
We haven't tried all of the varieties but the ones we did tasted really good, especially the dough – nice and crunchy on the outside and soft, chewy on the inside, just like in freshly baked pizzas.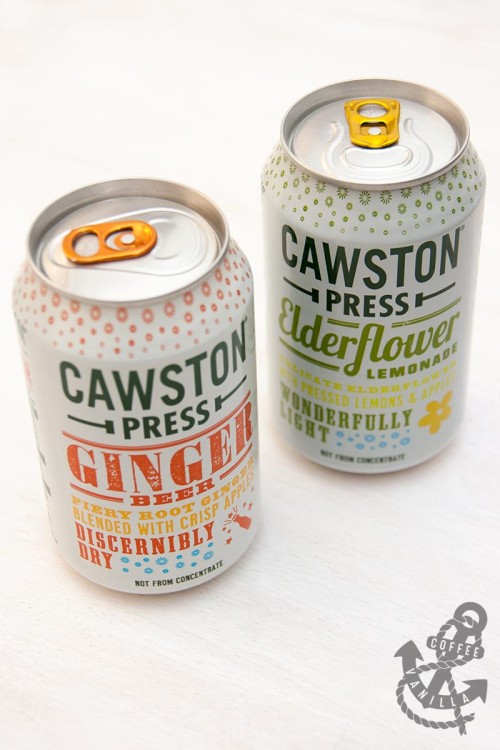 Cawston Press Ginger Beer and Elderflower Lemonade (RRP £4.99 per 6 pack of 330 ml tins).
Cawston Press sparkling drinks come in two new varieties: Ginger Beer – classic drink with fiery root ginger and pressed apple juice and Elderflower Lemonade – refreshing, light blend of fragrant elderflower and pressed apple juice.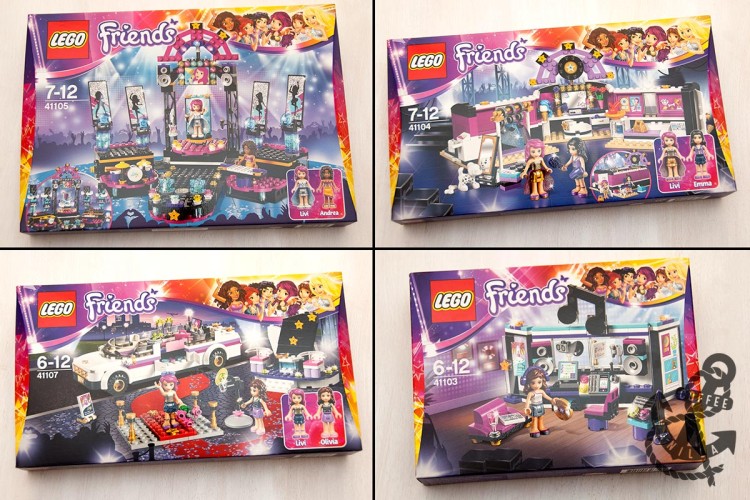 Lego Friends come in many different sets, those are created around new character Livi – pink haired pop star and her friends: LEGO Friends Pop Star Show Stage (RRP £34.99), LEGO Friends Pop Star Dressing Room (RRP £24.99), LEGO Friends Pop Star Limo (RRP £19.99) and LEGO Friends Pop Star Recording Studio (RRP £12.99).
Regardless if you are fan of pop stars, limos and music industry, those sets contain good amount of unusual blocks: sunglasses, poster stand, TV, drink glasses, camera with the flash, cherries, golden stars for the red carpet, hair accessories, fabric skirts, hangers, blue wig, mirrors, hair dryer, lipstick, crown, golden bag, letter and letterbox, bone for puppy, newspaper, music sheet, mobile phone, computer with sound mixing program on, microphone, video camera, guitar, CD player and headphones, just to mention some. Most of them (except for the recording studio) include also Livi – pop star with pink hair.
My daughters, who have in possession plenty different Lego bricks they really liked those sets and already made use of them.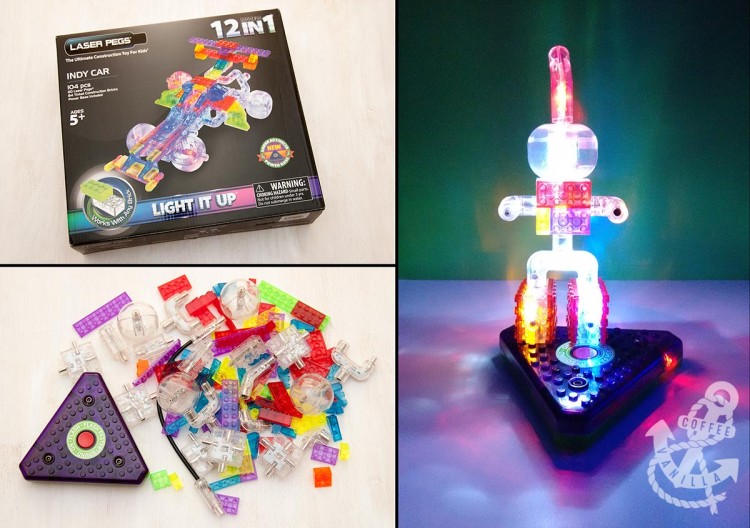 Laser Pegs (£14.99 – £69.99) are light-up construction toys that light up in all the colours of the rainbow. Laser Pegs are also compatible with virtually all other constructions sets so kids can add light to their existing creations as well. Above set can create 12 different things: car, robot, submarine, truck, rocket, just to mention few.
My girls could not believe their eyes when they opened the box with their 12 in 1 Indy Car (RRP £34.99). Now they are adding light to their creations and even use pictured robot as a night light. The light have couple of options: steady stream, blinking or voice activated what means the light blinks when hear talking, singling or clapping… they love it!
It is worth mentioning that those bricks are quite fragile due to LED bulbs inside and transparent plastic they are made of so in my opinion they are not suitable for kids under 5.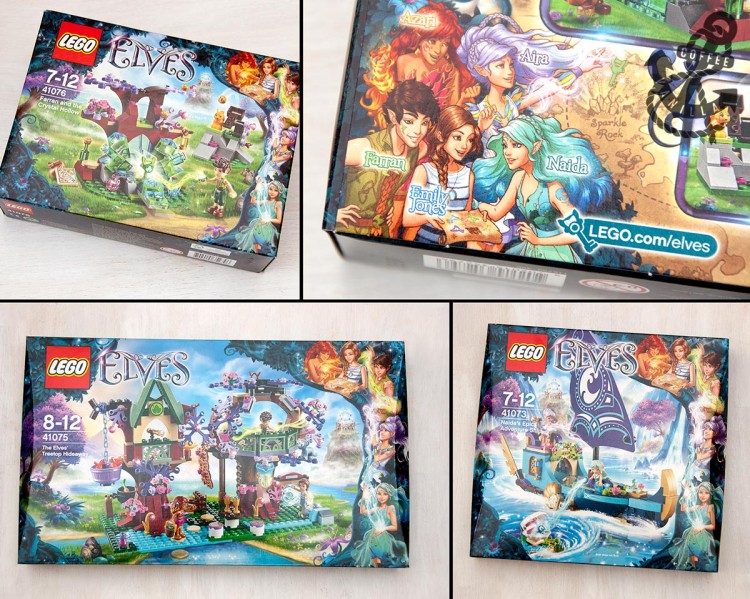 LEGO Elves Farran and the Crystal Hollow (RRP £15.47), LEGO Elves Treetop Hideaway (RRP £49.85) and LEGO Elves Naida's Epic Adventure Ship (RRP £34.61) belong to the new series and are created around regular girl – Emily Jones who finds herself in elves' world where Azari, Aira, Naida and Farran live.
If you are not familiar with LEGO Elves you may like to know that those blocks are compatible with all other regular size LEGO blocks and the mini figures are compatible with the LEGO Friends characters. The pointy elf ears are part of the hair so they can be easily mixed and matched with other characters if needed.
Both of my girls (4 & 9 ) absolutely adore those little elves, well done LEGO (!)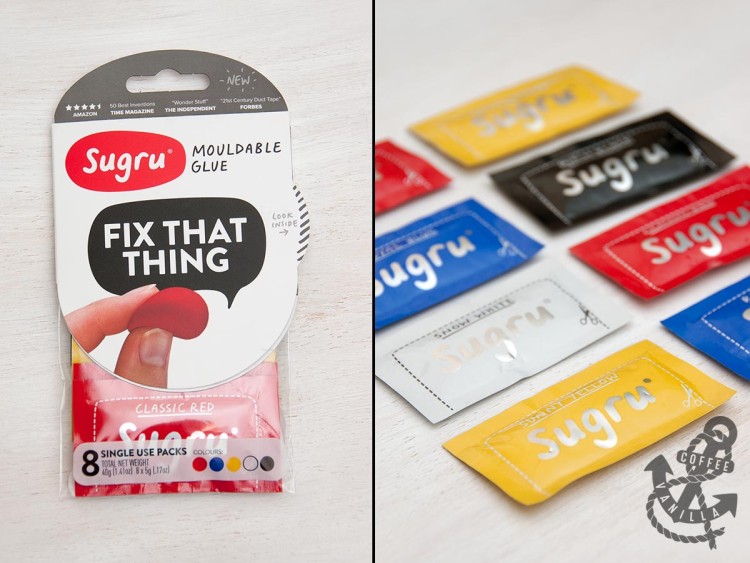 If you are not familiar with this product Sugru (£12.99 per pack of 8) is a moulable glue that sticks to almost anything and sets into a strong, flexible rubber overnight. I tested it years ago on broken knife handle and up to date that is the knife I use every single day in my kitchen.
When teamed with magnets it's great for organising BBQ utensils many, many other things including stamp making or fixing leaking shoes – must have gadget in any holiday backpack or suitcase.
NOTES
Since May's Tried & Tested we went to the Miele event taking place in Brighton's Silo, wrote about hand-crafted goods from Uganda in HomeSense & TK Maxx stores, visited Preston Park Rock Garden, prepared Salted Caramel Iced Coffee with Teisseire syrups and made some DIY teacher appreciation cards using felt and sequins.
The next Tried & Tested will be published on the 31st of July and will be still about Summer holidays, stay tuned.
DISCLOSURE: This post contain some affiliated links. All of the products has been sent to us for review purposes. Wooden tray and plates have been bought using Homesense gift voucher.  Chicago Town Takeaway pizzas were purchased using pizza vouchers sent to us. We have received Lego Friends & Lego Elves sets as a part of Amazon Vine™ Programme and you can find parts of  those reviews on Amazon website as well. We were not financially compensated for this post. All opinions expressed here are our own and we retained full editorial control.